Chinese Wellness Ritual
An exquisite Asian therapy that takes place on a heated marble table within the steam room.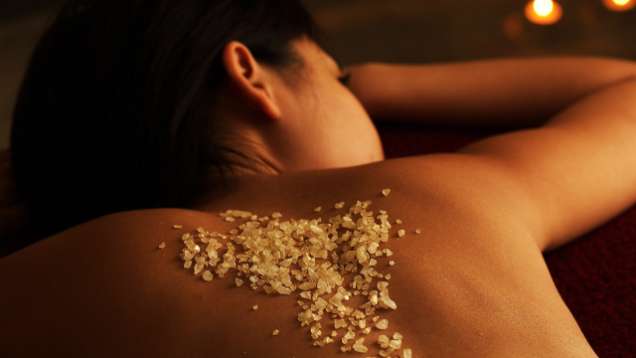 These distinctive body treatments from the Spa at Four Seasons Hotel Hong Kong encourage detoxification and help improve health and beauty.
Forbidden Rice Treatment
This relaxing, Asian-inspired treatment designed especially for the Spa at Four Seasons begins with a gentle rice and ginger body scrub that feels wonderful on even the most tired or sensitive skin. A two-phase massage follows, first focusing on your pressure points using a rich balm of organic ginger, lotus and fennel to nourish your skin, then concluding with a gentle massage using a warm oil blend of cinnamon, ylang-ylang and black pepper. You will leave with fragrant skin and a deep feeling of well-being.

Weekday: 90 minutes – HKD 1,800
Weekend: 90 minutes – HKD 2,000
Your Body
This personalized treatment begins with a body analysis that follows the Biologique Recherche Methodology, which allows your therapist to choose the most beneficial combination of products and techniques for your unique needs. Your therapist may determine that you require contouring, detox initiation or smoothing and firming. A scrub prepares your body for the best possible absorption of the masks, serums and creams that follow, with instantly visible results.

Weekday: 120 minutes – HKD 2,500
Weekend: 120 minutes – HKD 2,700
Body Polish
Experience the deeply reviving and cleansing results of one of our four signature body scrubs. Each scrub has specific properties to target your needs at the time of your visit, but all are designed to leave you with improved circulation and rehydrated skin.

Weekday: 60 minutes – HKD 1,100
Weekend: 60 minutes – HKD 1,200
Resculpting Treatment
Using products from The Organic Pharmacy and various professional techniques, this therapy encourages the breakdown and dissolution of fat cells for a firmer body. The two-part treatment starts with a warming ginger and chilli oil massage that targets your specific problem areas, then a final application of Resculpting Body Gel tightens the skin while toning the body. A series of Resculpting Treatments is recommended for best results.

Weekday: 90 minutes – HKD 1,800
Weekend: 90 minutes – HKD 2,000
M6 Contour
This cutting-edge treatment treats cellulite and firms contours. The M6 uses its renowned rollers and suction technique to boost your circulation and lymphatic drainage, resulting in a slimmer and more toned body. Even one treatment has a profound effect, although a series of 12 to 20 is recommended for the most visible results.

Weekday: 60 minutes – HKD 1,100; series of 12 – HKD 12,550; series of 20 – HKD 21,500
Weekend: 60 minutes – HKD 1,200; series of 12 – HKD 12,550; series of 20 – HKD 21,500
Your Bust
For instantly visible lifting and firming, this Biologique Recherche treatment focuses on toning your décolleté and bust area using both therapeutic touch and technology. After a deep cleanse and a gentle exfoliation, your skin will be treated to a hydrating and toning mask. A combination of restorative massage techniques and the use of the Remodeling Machine ensures that the surrounding muscles are stimulated, while the serum and cream tightens and nourishes the area's delicate skin.

Weekday: 90 minutes – HKD 1,850
Weekend: 90 minutes – HKD 2,050
Slim and Trim
Using the revered Biologique Recherche products and techniques, Slim and Trim is entirely dedicated to your target areas for dissolving adipose fat. It helps to stimulate microcirculation, eliminate toxins and excess water, as well as toning, firming and rehydrating the upper-most layers of the epidermis. Recommended in a series of 6 or as regularly as required for toning and smoothing. We also suggest to combine this series with the M6 Body contour.

Weekday: 90 minutes – HKD 1,900
Weekend: 90 minutes – HKD 2,100
Note: Prices and treatments are subject to change without notice. Prices are subject to a 10% service charge and vary from weekday to weekend.