Meetings & Events
Conference Planning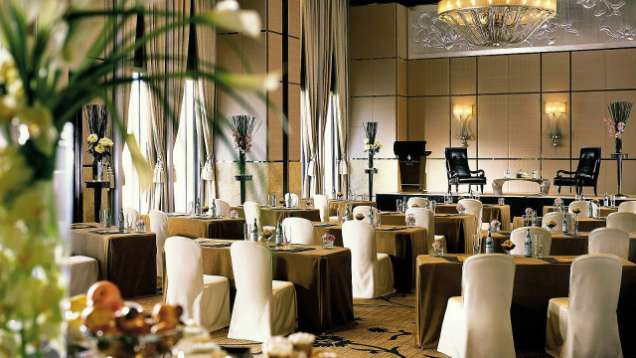 State-of-the-art audiovisual equipment
State-of-the-art audiovisual equipment includes:
Lecterns with light and sound controls

Dedicated telephone lines available on request

Motion picture projectors, slide projectors, overhead projectors

Mono, stereo and multi-track tape recorders

Video cameras, video projectors, video players

Multi-image dissolve units and programmers

Video/teleconferencing

Personal computers

Wired or wireless Internet access in meeting rooms

Technical assistance
Set apart in a distraction-free environment, all meeting spaces at Four Seasons Hotel Hong Kong are fully equipped to support the most technologically demanding presentations, with advanced lighting, audiovisual and staging capabilities. Telecommunications and electrical hook-ups are designed to meet or exceed industry standards. Voltage is 220.
Music and entertainment
Our conference coordinators will be happy to assist with setting up any type of music or entertainment for your meetings.

Receiving and maintenance
The Hotel features a full-service shipping and receiving office. All packages should be sent to the attention of your group's name and its conference service manager. They will be stored in a separate conference storage area. Limited space is available for the storage of large items. Please time shipping to the dates of your arrival.

Receiving dock
Please contact your conference service manager for special arrangements for delivery of oversized packages or environmentally sensitive equipment.

Post-conference shipping
Shipping of post-conference materials may be coordinated through your conference service manager.

Maintenance
The engineering department is available 24 hours a day for general assistance with lighting, room temperature control and minor repairs.

Destination management companies
Our conference coordinators can help accommodate your group's special requests. For detailed information, please contact the Hotel directly. In addition, we recommend the following destination management companies:
Pacific World Ltd.
Suites 2603-05, 26th Floor Peninsular Tower
538 Castle Peak Road
Kowloon, Hong Kong
Telephone: (852) 2370-1888
Fax: (852) 2370-1777
Abercrombie & Kent Hong Kong Ltd.
19th Floor, Gitic Centre
28 Queen's Road East
Wan Chai, Hong Kong
Telephone: (852) 2865-7818
Fax: (852) 2866-0556
Welcome amenities and VIP gifts
Special arrangements can be made for clients to purchase welcome amenities for their VIP guests. The Concierge will be happy to assist with these arrangements. Possibilities range from bottles of fine wine and champagne to deluxe fruit baskets, fresh flowers, gourmet chocolates or a Four Seasons Hotel Hong Kong spa treatment.
Spouse programs
The Hotel offers a variety of activities of interest to spouses of meeting participants. The Concierge will provide detailed information on specially tailored spouse programs, including the following:
A day at the Spa

An escorted tour of Hong Kong's markets

A shopping tour

A day at the races

A cruise to Aberdeen, including lunch on a floating restaurant

Excursion to the New Territories, including the Ten Thousand Buddhas Monastery

Hiking on Lantau

A tour of Lamma Island

A daytrip to Macau
Family programs
Four Seasons Hotel Hong Kong offers a perfect base for families visiting the area, and extends an especially warm welcome to its young guests by providing special treats such as cookies and milk, smiley-face macaroons, homemade marshmallows and Japanese rice crackers. A wide selection of children's DVDs is available, as well as colouring books and crayons in the Hotel restaurants. Complimentary items include bottles and toiletries for infants, high chairs, kid-sized terry bathrobes, strollers and bottle warmers. Items to childproof guest rooms can also be provided. Babysitting services may be arranged through the Concierge.

Children's menus are available in the restaurants and through In-Room Dining, with careful attention paid to providing nutritionally balanced meals. Children under the age of 12 may enjoy the Hotel's infinity pool when accompanied by an adult. The Concierge will also advise on off-site activities to create special memories for the entire family. Possibilities include exploring the Peak, visits to Hong Kong Disneyland, Ocean Park and numerous child-oriented museums, and lessons in kung fu and Chinese calligraphy.
Four Seasons Hotel Hong Kong offers a range of venues for meetings, conferences and social events that adapt perfectly to your goals. Its two elegantly decorated ballrooms and seven meeting rooms are equipped with comprehensive technological support to accommodate the most demanding presentation and communication requirements.
Quick Reference
Time zone
GMT +7 or +8 hours, time does not change with daylight savings
Language(s) spoken
Cantonese and English are the official languages. Most staff in shops and restaurants speak some English or Putonghua.
Electrical system
Local voltage is 220 to 240 volts AC. Electrical plugs are the same as ones in the UK. Adapters and transformers are available; please request through Housekeeping.

Shopping hours
Most shops are open seven days a week.
10:00 am to 7:00 pm in Central District
10:00 am to 9:00 pm in Causeway Bay and Tsim Sha Tsui
Working hours
Monday to Friday 9:00 am to 6:00 pm
Saturday 9:00 am to 1:00 pm
Major banks are open Monday to Friday 9:00 am to 5:00 pm, and some open Saturday 9:00 am to 12:30 pm