My Four Seasons
Timeless Design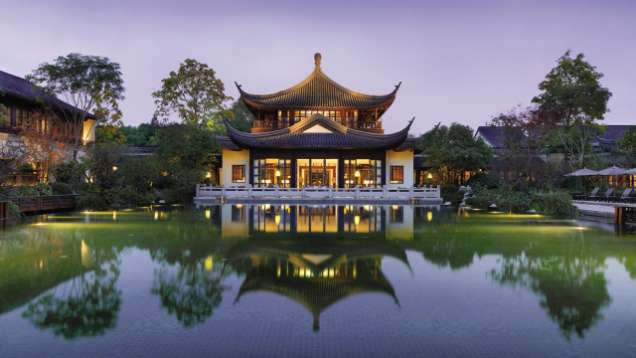 You can be forgiven for thinking Four Seasons Hotel Hangzhou at West Lake was built during the middle of the Song dynasty. While it's actually less than a year old, the property's pagoda-like buildings and peaked roofs perfectly embody the regional Chinese style of architecture known as Jiang Nan.

Popularized during the Song, Ming and Qing dynasties, Jiang Nan is reflected at the Hotel in each pavilion, linked by walkways through carefully landscaped water gardens. The colour palette features white walls, black tiles, gray rocks and red columns that exist in harmony with natural greens and browns, and the blue sky.

While certainly a hallmark of Jiang Nan style, the use of water features like lagoons and streams serves another purpose: acting as a natural cooling method in hot weather. The small scale of Jiang Nan gardens also provide an intimacy and connectivity with nature where rocks and bamboo resemble walking in quiet valley riverbeds.

It's a style that encourages a feeling of unity with one's environment and an elegantly calm existence sought by emperors, poets and just about anybody who visits us on the shore of West Lake.