My Four Seasons
THE BIRDS AND THE BEES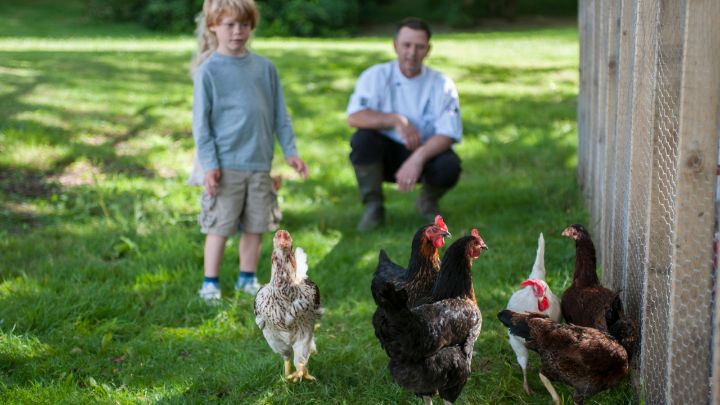 Fresh from nearby Laverstoke Park, eight cheery chicks have taken up residence on Dogmersfield Estate and are settling into their new home at Four Seasons Hotel Hampshire: a palatial coop built by the Hotel's John the Carpenter.


Living close to the woodland on the west side of the Hotel, the maran cuivre and white leghorn hens enjoy sweeping views of the Estate and, once a day, leave their playpen to roam around the grounds and enjoy the good life of free-range living. In return for this life of luxury, these feathered friends are delighting guests with the freshest of eggs for a daily breakfast treat.


Executive Chef Cyrille Pannier is most proud of his new recruits. "It is fantastic to look out of the window and see the hens roaming around the grounds," he says. "They are a lot of fun and it's a wonderful treat to involve our guests in choosing their eggs for breakfast, fresh from the coop. Families love it!"


Meanwhile, on the other side of the Estate, a few other new arrivals – 50,000, to be precise – are causing a buzz. Two new hives, tucked away on the south side, are alive with the busiest of bees. Diligently working on their honey-making operation, these "calm bees" will be producing a truly delicious treat for all guests to enjoy as summer draws near.


Finding themselves free to enjoy the Estate's exceptional orchard and carefully designed vegetable garden, our "VIBs" will thrive within their own garden of paradise, which will, in turn, give a unique flavour to their honey. Be it spread on home-baked bread, added to tea, used for honeycomb ice cream or incorporated into an indulgent honey and chamomile spa treatment, the Hotel's special honey is sure to sweeten your stay.


Highlighting the environmental importance of bees, Pannier adds, "This is not only good news for our Hotel guests, but also for the bees. Sadly, in the UK there is a serious need to help recover the honeybee population. Wild honeybees are nearly extinct and gardeners should be encouraged to plant bee-friendly wild flowers, herbs and shrubs. Our Estate will provide a pollinator-friendly habitat to ensure our bees thrive."