One of China's most multicultural cities, Guangzhou is the country's third-largest urban area and the economic engine of South China. Set on the Pearl River about 120 kilometres (75 miles) northwest of Hong Kong, the busy port is a bustling centre for world trade and commerce.
Things to Do in Guangzhou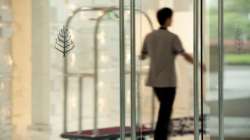 Concierge Recommends: Guangzhou
The Concierge at Four Seasons Hotel Guangzhou shares travel tips to make your stay in Guangzhou memorable.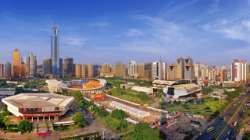 5 Things to Do in Guangzhou
From the Guangzhou Opera House to TaiKoo Hui market, step out and explore China's third-largest city.
Art Galleries
Times Museum
The Guangdong Times Museum promotes contemporary artistic production and integrates art, design and architecture.
Atom Space Gallery
Atom Space Gallery features oil paintings of the Lingnan School, a traditional Chinese style of the late Qing Dynasty.


Fei Gallery
Fei Gallery displays paintings, calligraphy and photos, and also serves as an auction house.

Attractions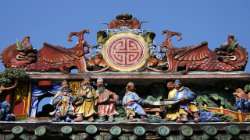 Chen Clan Temple (Chen Jia Ci)
Built in the Qing Dynasty, this temple was constructed in traditional Chinese style. The temple comprises 9 halls, 6 courtyards and 19 buildings interconnected by corridors, and is best known for its superb décor, which epitomizes the folk culture of Guangdong.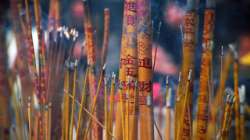 Guangxiao Temple (Guang Xiao Si)
Guangxiao Temple is among the grandest and most influential temples in China, with a history dating back more than 1,700 years. According to historical records, Guangxiao Temple is older than the city of Guangzhou itself. Originally built as a private home, it eventually became a lecture hall before being dedicated as a Zen Buddhist temple.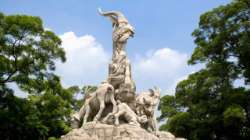 Yue Xiu Park
Located 1 kilometre (0.6 miles) southeast of Guangzhou West Railway Station, Yue Xiu Park is the largest park in Guangzhou. The park includes some pleasant artificial lakes and a large swimming pool. The most notable attractions in the park are the Zhenghai Tower and the Sculpture of Five Rams.

City Tours
Excursions
Cycling on Changzhou Island
This small and peaceful island is linked to Guangzhou University Town by a bridge. Here you will find beautiful green landscapes, ancient residences, the Huangpu Military Academy and Huangpu Custom's relics of the Qing Dynasty.

Chimelong Resort
This holiday resort, located in Pan Yu District, Guangzhou City, includes a safari park, amusement park and golf centre.

Lotus Hill (Lian Hua Shan)
One of the famous hills of the Pearl River Delta, Lotus Hill is located 20 kilometres (12 miles) from Guangzhou and comprises 48 red sandstone hills. The site also features a 2000-year-old quarry and the largest gold statue of the Goddess of Mercy in the world.

Museums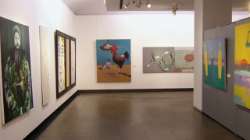 Guangdong Museum of Art
The Guangdong Museum of Art consists of 12 indoor exhibition halls as well as an outdoor sculpture garden. Each year, the museum hosts nearly 60 exhibitions – from smaller, intimate looks at the work of contemporary artists to exhibitions larger in scale.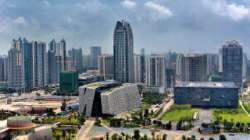 Guangdong Provincial Museum
Ceramics, calligraphy and paintings from various dynasties make up the collection of Guangdong Provincial Museum. There are 300 first-class artefacts in the collection, including a few national treasures, such as the Ink Dragon Drawing by Chen Long in the Song Dynasty, a Monkey King ink slab from the Qing Dynasty and a white-glazed Sakyamuni figurine of the Northern Song Dynasty (1068 AD).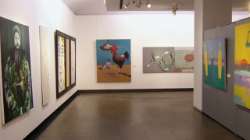 Guangzhou Museum of Art
The Guangzhou Museum of Art is a major modern cultural institution that aims to collect recent and contemporary works of art by artists living in China, with a focus on Guangdong Province, as well as abroad. The permanent collection emphasizes the coastal areas of southeast China.

Shopping
Mall of the World
With a total area of 150,000 square metres (1,614,600 square feet), when complete the Mall of the World will showcase high-end boutiques, cutting-edge electronics and a 3D IMAX cinema.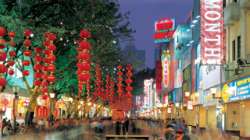 Beijing Road
Beijing Road has been one of the major commercial streets in Guangzhou since the 1600s. There are two well-known shopping malls in the street: Guangzhou Department Store, located on the south side of the street, and Xin Da Xin Department Store, on the north side.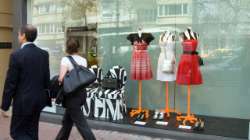 TaiKoo Hui
Opened in late 2011, TaiKoo Hui is a large-scale, multifaceted complex in the Tianhe Central Business District. Over 70% of its stores represent international brands, including Louis Vuitton, Hermès, Prada, Dior, Chanel and Gucci.

La Perle
La Perle is situated in Guangzhou's bustling commercial area, Huan Shi Dong Road, surrounded by notable landmarks such as the Garden Hotel, Bai Yun Hotel, Friendship Store and Guangzhou World Trade Centre. Collectively, these high-end establishments were the first brand-name havens in Guangzhou.

Tee Mall
Tee Mall is a large-scale, modern centre that integrates shopping, entertainment and work space.

Theatre/Performing arts
Guangzhou Xinghai Concert Hall
Named after Xian Xinghai, a renowned Chinese composer born in Guangzhou, the Xinghai Concert Hall is the best intimate concert venue in Guangzhou, and features a symphony performing hall with 1,500 seats.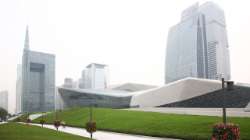 Guangzhou Opera House
Designed by renowned British architect Zaha Hadid, this iconic entertainment venue evokes a twin boulder on a subdued massif.
Friendship Theatre
The multifunctional Friendship Theatre has featured performances by thousands of national and international art organizations, including the British Royal Ballet and national and provincial Chinese troupes. The theatre features modern architecture and recently underwent a restoration.

Sporting/Concert Venues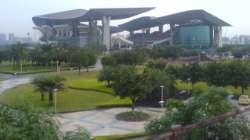 Guangdong Olympic Stadium
Built in 2001, the Guangdong Olympic Stadium is a multi-use stadium currently used mostly for football matches. It has a capacity of 80,012 spectators and features multicoloured seats positioned in a ribbon pattern.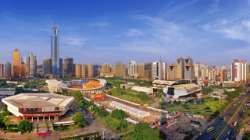 Tianhe Sports Center
Occupying pride of place between Flower City Square and the CITIC Plaza, Tianhe Sports Center is a large and well-equipped sports stadium. It consists of three main parts: a stadium, a gymnasium and an indoor swimming pool. All facilities are open to the public.