My Four Seasons
Sunrise Elephant Trek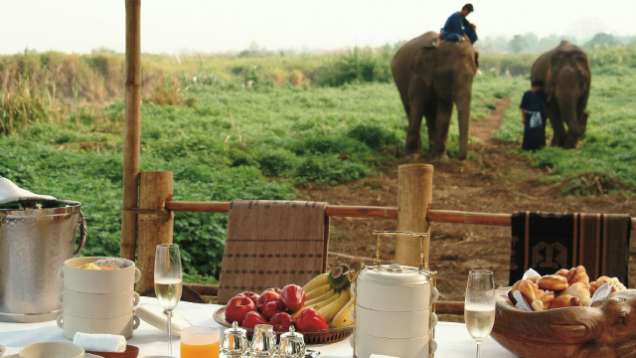 Other Four Seasons Stories
Greet the dawn, Thai-style, with a sunrise elephant trek. We promise leaving your comfy bed will be worth it!
Your adventure begins before sunrise, as you ride your elephant to Camp Peak, the highest point in the camp. As the dark night sky starts to brighten, the few remaining stars wink out and the birds begin to sing, watch the sun start its breathtaking ascent from behind the Laos mountains. The winding Mekong River in the valley below glows with golden reflected light, and ethereal mist rises from the fields in Burma. Savour Mother Nature's performance from your perch atop your elephant or in the viewpoint's sala, an open-air pavilion, with a cup of locally grown coffee in hand. It's a magical experience.
Enjoy a second cup of coffee, along with fresh fruit and delectable pastries, before starting your descent under the morning sun's soft warmth. Be sure to pause for playtime at the bathing pool – you can help give your elephant a bath and indulge in a little splashing around, too. You'll be amazed at how much fun you can have before 9:00 am!