My Four Seasons
Rejuvenate in Perfect Serenity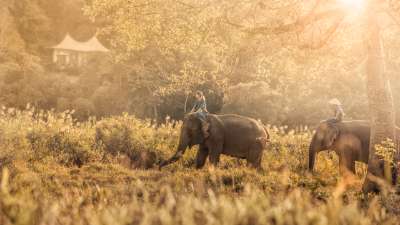 After a day of riding atop an animal, you would think the animal would be the exhausted one. Guests at Four Seasons Tented Camp Golden Triangle spend most of their days learning to train and ride the camp's elephants. If you're a first-time visitor to the camp, you may find that sitting atop these massive 3-ton creatures, trying to steer them left or right and even getting them to back up requires muscles you never knew you had. Mounting and dismounting alone can leave you wondering what you've been doing at the gym all these years.

So, after a day of being perched 3 metres (10 feet) high on the head of your new friend, your legs and hips might be crying out for some relief, having been stretched into unfamiliar positions that correspond to an elephant's girth. The recommended cure is the Mahout Recovery Treatment. It's based on the traditional Thai herbal-poultice massage used to soothe the muscles of elephant cavalrymen centuries ago.

Lying on a massage table in an open-air pavilion, you'll receive an oil-based massage that twists and pulls you through yoga-like poses, pushing out tight muscles. What makes the treatment special are the large heated poultices applied to your body. They're filled with lemongrass, ginger, Kaffir lime, camphor and turmeric, and are made by local women using the ancient Thai method of wrapping the medicinal herbs in muslin. The therapist rests the poultice between the thighs and on top of the neck before replacing it with a fresh warm one. The warmth seeps through and soothes the muscles. While the therapist works her magic, you surrender to the total bliss of being surrounded by trees, tropical plants and the sounds of the jungle.

The treatment works wonders. By the time you return to your tent and turn in for the night, your muscles are restored and you slip into a deep, deep sleep. One visitor said that while lying on the massage table she kept thinking about her first year at summer camp, when she was eight, learning to ride horses in Colorado. As an adult, she said, the same activity would leave her with aching muscles – but being able to soothe them is one of the greatest luxuries there is.

Other Four Seasons Stories