Il Lago Chef
Saverio Sbaragli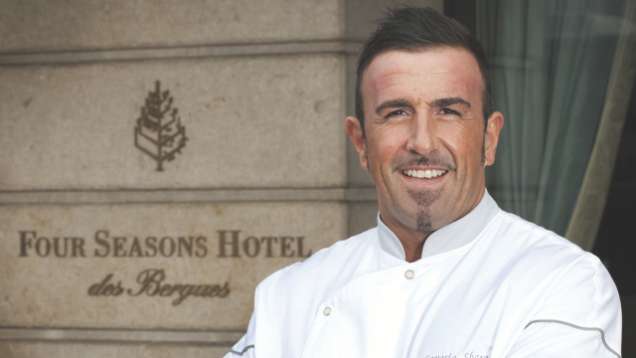 Title: Chef, Il Lago
Quote: "I am convinced that what clients are looking for in a dish is the true taste of the product. My job is to enhance it to ensure it is at its best."
Four Seasons Tenure: Started 2005; First Four Seasons Assignment: Assistant Executive Chef, Il Lago, Four Seasons Hotel des Bergues Geneva
Employment History: Hotel Il Salviativo, Florence; Relais & Chateaux La Collegiata, San Gimignano,Tuscany; Enoteca Pinchiorri, Florence; Four Seasons Hotel des Bergues Geneva; Grand Hotel Continental, Sienna; Il Pelicano, Porto Ecole; L'Arpège, Paris; La Terrasse, Paris
Birthplace: Florence, Italy
Education: Culinary Degree, Hotel School A. Saffi, Florence
Languages: Italian, French
The arrival of a new chef typically means change for the menu, though it doesn't have to – especially if the chef helped put together the menu in the first place. "I was very pleased to find that many of the dishes we created for the opening of Il Lago are still available," says Saverio Sbaragli, who recently assumed the top spot in the kitchen at Four Seasons Hotel des Bergues Geneva. He ticks off Lobster Risotto and Cheese Tortelli Scented with Lemon and Mint among the original items he helped fashion back in 2005 that aren't going anywhere anytime soon.


Though Sbaragli found great success during his first turn in Geneva, he didn't stick around, departing for Tuscany after three years as assistant executive chef to gain new perspectives on product and technique. "Returning to Italy was a good opportunity to put my experience and vision to the test," he recalls of the two-year culinary adventure that found him cooking at some of Northern Italy's highest-rated restaurants.


It wasn't the first time Sbaragli took a detour in the name of proficiency. At age five, he was inspired to enter the kitchen by his grandmother, who caught him smashing eggs on the henhouse floor at her farm and, rather than teach him a lesson, taught him to crack them into a pan. After hotel school in Florence, Sbaragli saw success across Tuscany before being urged to seek refinement in France. Arriving in Paris, he worked with Alain Passard at L'Arpège and then with Christian Moriset at La Terrasse, where Alain Ducasse launched his multi-Michelin-starred career. "Paris was really eye-opening because that's where I first experienced the difference that exceptional technique and product can make."


His recent return to Tuscany was similarly revealing, especially at Enoteca Pinchiorri in Florence, which was awarded a third Michelin Star during Sbaragli's run as chef de partie. "The key for me quickly became combining the best of everything – Italian product, French technique and the creativity of Spain." While many chefs try their hand at many cuisines, Sbaragli's focus remains concise: "I'll happily use the best technique I can find from any cuisine, but my passion and specialty remain Italian."

Though he is working on new dishes, Sbaragli admits it's not easy to change the menu at Il Lago. Hotel management is highly knowledgeable and demanding of quality, and the restaurant sees 70% repeat business, largely from locals who know what they like. Each of the seven signature dishes must be "memorable and exceptional" in ways that draw guests to taste them again. The front of the house works closely with the kitchen, relaying client feedback. "If something doesn't work, it doesn't stay on the menu for long."
Well, usually. Sbaragli recalls the trial of Il Lago's original risotto, which is served slightly crisp after just 18 minutes in the pan. "Guests thought they knew risotto, but they needed to be educated that crispness is the best way to experience the dish," he says, noting that the restaurant has become "the place" to experience true risotto. "Now, our guests wouldn't want it any other way." Neither would Sbaragli.