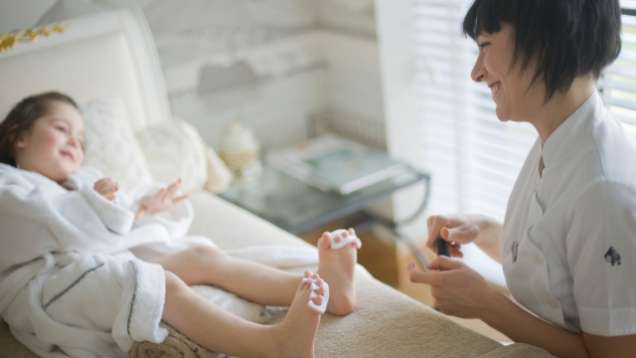 Chocolate Hug
With the chocolate massage the body is immersed in one of the most enjoyable and fun treatments! After applying the chocolate mousse, a quick shower followed with a relaxing massage to leave the skin soft and smooth with a sweet scent of chocolate! A unique experience!
Mini Manicure and Mini Pedicure
A specialized esthetic treatment that includes nail filing, a delicate citrus exfoliation, and is concluded with the decoration of choice for the most perfect little nails of the little Guests. This treatment is performed with the cosmetic line of OPI.

Fruit Spa Experience
A fresh and fruity spa experience perfumed with the irresistible fragrances of fruit. A complete spa treatment for everyone that combines a body massage and a hydrating mask for the face to feel sweet and energized.
Full Time Mom
And for all the moms who want the Spa experience with their little ones, the Four Seasons Hotel Spa in Florence has created an exclusive treatment "Full Time Mom" which allows both the mom and child to receive, relax, and have fun in a unique and unforgettable experience located in our private Spa Suite.

Duration and cost is based on the treatment chosen. Contact the Spa directly for details.

Note: Prices and treatments are subject to change without notice. Reservations are recommended.