My Four Seasons
Art and Sole: Museo Salvatore Ferragamo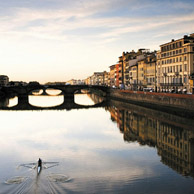 "Florence Syndrome" is the name given to the rapid heartbeat, dizziness, and hallucinations that overtake a person when they are exposed to a large amount of beauty, especially art, in a single space. Though the medical community deems it a "psychosomatic disorder" (in other words, imaginary), it's easy to imagine a visitor to Florence succumbing to this kind of fine art fatigue. If the murals and frescoes get to be too much for you, it may be time to try a different type of museum.
Located in one of the city's grandest palazzo, the Museo Salvatore Ferragamo is home to a collection of some 16,000 pairs of shoes covering four decades of shoe styles and trends, all elegantly displayed. They're the work of Italian shoe designer and Florence native Salvatore Ferragamo, a footwear virtuoso who once shod the feet of a number of Hollywood legends, including Audrey Hepburn, Marilyn Monroe, and Sophia Loren. Dubbed "a temple for footwear" by Fodor's, visitors will also learn the history of the shoemaker himself, who opened his own shop at the impressive age of 13.
Getting to the Museum Salvatore Ferragmo from the Four Seasons Hotel Firenze takes about 20 minutes. The Concierge can assist you with directions. Afterwards, stop by the hotel spa to treat your own appendages with the Luxury Foot Care treatment, a complete restorative experience that includes a soak, scrub, and massage. A great day for the sole, indeed.