My Four Seasons
Turning Up the Relaxation While
Turning Down the Heat: The Laconium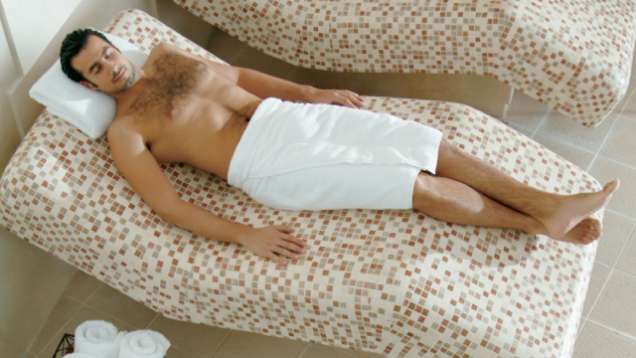 There are those who enjoy extreme temperatures, whether it's plunging into an icy cold bath or braving the boiling hot vapors of a Turkish steam room.

If shivering or sweating are not your idea of a good time, then it may be time to try something new. Or old, to be more exact. The laconium is a dry sauna invented by the ancient Romans to soothe the muscles of soldiers and prepare them for battle. Its milder temperatures mean you can stay a little while longer than your average sauna while still enjoying the full benefits of a heat-based treatment: better blood flow, increased metabolism, mental and physical relaxation, and stress relief.

The typical laconium of Roman times was circular in shape with a conical roof made of out a brass shield that could be raised or lowered to adjust the temperature. Though often plain and functional in appearance, some laconiums were quite fancy, with blue ceilings and gold stars meant to mimic the night sky.

Laconium beds are tiled loungers sometimes found in laconiums that further enhance the experience. Because they retain and radiate the heat around them, they're the perfect place to stretch out and relax (just make sure you don't fall asleep!).

The Spa and Wellness Centre at Four Seasons Hotel Doha features both a laconium and laconium beds. You can use them by themselves or in combination with other treatments. A great way to relax without going to extremes.