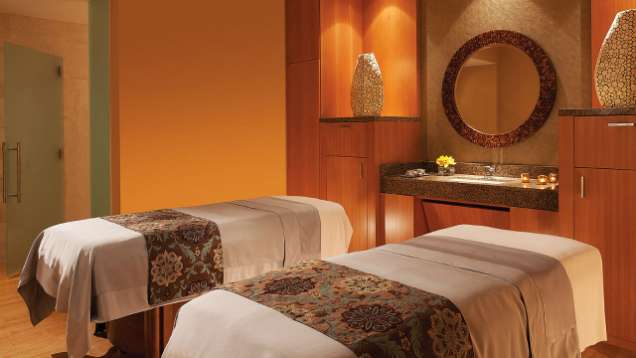 Couple's massages
Enjoy a massage with a friend or romantic partner on side-by-side massage tables set within our Couple's Room. Two therapists work in unison to provide an unforgettable shared experience. Prices vary according to the type of massages selected.
Romantic night out escape
Escape and enjoy precious time together with a 50-minute couple's massage of your choice followed by a three-course dinner for two in our very own Edge Restaurant.
This package excludes alcoholic beverages, taxes and gratuities.
Couple's Suite Retreat
Enjoy the sumptuous private escape of our Couple's Suite, complete with a tub for two. Your relaxing experience includes 80-minute massages of your
choice, plus time to savour the pleasures of our aromatic soaking tub while nibbling on fresh fruit and sipping on Champagne. All tensions will be eased away as you reunite together during this 110-minute treatment.
Note: Prices and treatments are subject to change without notice.