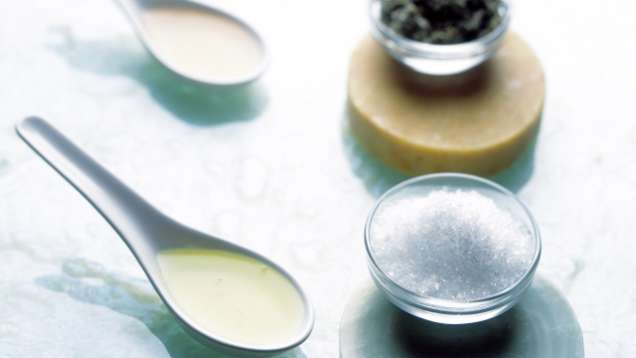 Wraps
These indulgent whole-body treatments are designed to increase circulation, add nutrition and detoxify and decongest the body's tissues while deeply relaxing the muscles. Using natural and organic products from around the world, our body wraps can soothe every skin condition. All wraps incorporate a traditional scalp massage and conclude with a nourishing application of body lotion, unless you are moving on to other treatments.
Deeply moisturizing honey-avocado butter
The scent of cardamom and vanilla essential oils deliciously envelopes you while your skin is softened and nourished. This wrap blends high-altitude honey, teeming with live enzymes, with a moisturizing avocado butter. A natural lotion completes this revitalizing full-body treatment.
Organic detoxifying and slimming
Dried herbs, Dead Sea mud and Rhassoul clay – rich in minerals and vitamins – are used to stimulate the process of detoxification and toxin release. The flow of lymph is stimulated, and excess fluids are released through the skin, leaving you feeling lighter and more invigorated. An excellent treatment for reducing the appearance of cellulite and firming the skin.
Organic Seaweed
Unlike any other seaweed treatment, this truly amazing detoxifying therapy uses real organic seaweed leaves to scrub and wrap the body. Beginning with an organic body buff, this treatment detoxifies, firms and softens the skin and is excellent in conjunction with a weight loss program. The entire body is covered in Laminaria seaweed leaves for instant results. Completed with an application massage of Softly Does it to nourish and soften.
Coconut crème and cucumber soothing
Heal the effects of overexposure to the sun and wind with a pure, wildcrafted, organic skin-soothing treatment. Delicious masks of coconut cream with cucumber and rose hydrate and soothe the skin while cooling the body. The treatment is finished with an application of a healing serum proven to repair DNA damaged by UV rays, followed by a regenerating and protective moisturizing, antioxidant body oil to soothe and to continue the repair process. For best results, we recommend guests refrain from showering after this treatment until the following morning.
All wraps include dry brushing.
Scrubs
Our full-body scrubs use a combination of rich, natural ingredients to remove toxins, increase circulation and create a natural radiance. All scrubs conclude with an application of conditioning body lotion – sealing in moisture and leaving the skin luxuriously refreshed – unless you are moving on to other treatments.
Organic hydrating body scrub
Our dual action lathering body buff exfoliates with finely ground walnut shells and nourishes your skin with a blend of almond oil, seaweed and ginger extracts. Our gentle yet effective formula removes rough and life-less looking skin cells, to reveal much more refined, softer, silky smooth skin.
Organic Peppermint and Seaweed Sugar Glow
This refreshing and all over exfoliation treatment awakens the skin and body. It features a fabulous mix of organic peppermint leaf, seaweed and sugar, all of which perform the double action of gently exfoliating the skin, while introducing you to the uplifting effects of our organic peppermint essential oil.
Moisturizing shea butter and salt
Draw upon the healing elements of this specialized scrub to invigorate and replenish your skin. Its gentle sugar and salt particles are ideal for even sensitive skin, and are highly effective for all skin types. Shea butter, sunflower oil and safflower oil provide essential hydrating and soothing effects on dry, sun-exposed skin. Combined with your favourite scent, this body treatment is both memorable and blissful.
Wildcrafted rosemary-sage body scrub
Fresh, aromatic rosemary and sage essential oils purify the skin and stimulate circulation. Blended with nourishing high-oleic sunflower oil, the skin is moisturized as it is exfoliated with fine mineral salts. A natural lotion nourishes the skin and completes the experience.
All scrubs include dry brushing.
Combination – Scrub and Wrap
Any scrub and wrap can be booked together for maximal relaxation.
Note: Prices and treatments are subject to change without notice.