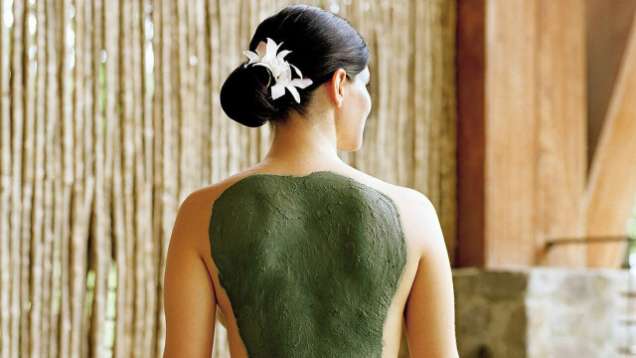 Scrubs
Our full-body scrubs use combinations of rich natural ingredients to remove toxins, increase circulation and create a natural radiance. All scrubs conclude with an application of conditioning body lotion, unless you are moving on to other treatments – sealing in moisture and leaving the skin luxuriously refreshed.
Organic Costa Rican coffee scrub
This coffee lovers dream come true features a scrub of freshly ground organic Arabic coffee from the central region of Costa Rica, combined with rich natural oils. This treatment helps to increase circulation and reduce the appearance of cellulite. As a finale, rich moisturizer is applied.
Mango sugar scrub
Mango, honey and raw sugar are used to exfoliate and renew the skin. This treatment concludes with an application of moisture-rich organic body lotion to nourish the skin. The perfect prelude to any massage.
Wraps
These indulgent whole-body treatments are designed to increase circulation, add nutrition, detoxify and decongest the body's tissues, while deeply relaxing the muscles. Using natural botanical products from Costa Rica and around the world, our body wraps can soothe every skin condition. All wraps incorporate a traditional scalp massage and conclude with a nourishing application of body lotion (unless you are moving on to other treatments).
Volcanic mud wrap
Volcanic clay has been used for centuries in Costa Rica for therapeutic mud treatments. For this wrap, we have selected a pure, mineral-rich clay, extracted from deep within the earth near the remote Península de Osa region of Costa Rica. This treatment is an excellent way to increase energy and aids in the absorption of much-needed minerals and vitamins. The skin feels toned and restored to its natural glow.

Green coffee detoxifying wrap
Green coffee's cleansing properties are well known - helping to reduce water retention and encouraging the body to flush out toxins naturally. This allows cells to function at full capacity, providing you with greater amounts of energy. Firming, slimming and mineralizing the skin, this treatment is recommended for all skin types.

Body scrub and wrap combinations
It is our professional recommendation that a body scrub always be performed before a body wrap. The scrub helps remove dead skin cells which naturally build up on the body. In turn, this allows for maximum absorption of the wrap's essential nutrients. You may select any body scrub and any body wrap.

Note: Prices and treatments are subject to change without notice. Prices are subject to a 10% service charge.