On January 17, 2014, Four Seasons Resort Costa Rica turns 10. Join us during our year-long anniversary celebration to find out why Costa Rica is the happiest nation in the world, and why the Resort has been voted one of the Top 25 Luxury Hotels in Central America.

Surrounded by the ocean on Peninsula Papagayo, we take full advantage of Costa Rica's rare and exotic beauty to set the stage for days spent adventuring, relaxing and experiencing the country's famous pura vida lifestyle.
Top 10 Recreational Activities
Discover the 10 best recreational activities that the Resort has to offer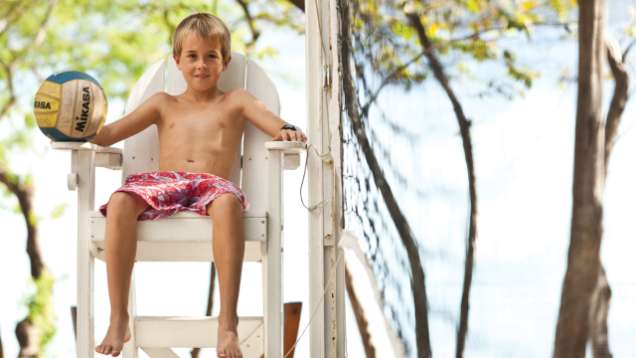 Top 10 Activities for the Younger Crowd
Explore our exciting programs and activities for younger guests.

Four Seasons Resort Costa Rica is also celebrating ten years of effusive traveler reviews on Trip Advisor. Let's revisit what some of our earliest guests had to say about us... Some things never change!
Everything was brand new. The grounds of the hotel on arrival are spectacular, carved into the side of a mountain. The rooms were luxurious, lots of wood, cable tv, big bathroom with soaking tub; the two main pools, with two smaller ones, were lovely, not too crowded; we had 7 straight days of sun, 90 degrees, no bugs, no humidity. Everyone there, guests and staff, were very friendly. Would highly recommend this resort.
TimelyRon
June 28, 2004— TripAdvisor.com
"Absolute Paradise! My partner and I thoroughly enjoyed this beautiful resort, from the grand entry lane to the main resort area. We were fortunate enough to stay in one of the suites on top of the property with remarkable views. Service, food, hospitality were all top rate. We can't imagine ever staying anywhere else."
TandP.
January 4, 2007— TripAdvisor.com
We stayed in a Canopy suite and it was perfect for us. It had a very large enclosed patio where the kids could eat breakfast and watch the tropical birds and monkeys. Even though the suites were up away from the pool, the bell service would appear in minutes to take you to and from the pools beaches restaurants. The kids for all seasons staff was outstanding. We have a child who is 4 with special needs and they were wonderful. Every night they had things like a magic show, disco night, and more. I could write a book about our experience.
abuscaglia
February 18, 2010— TripAdvisor.com
My husband and I came to the resort right from our wedding. The service was absolutely incredible. The resort is beautiful, everywhere you go there is someone to help you, water flavored with fresh fruit, and sunscreen. Some days we just relaxed by the beaches or pools and other days we took advantage of the local adventures. The zip lining at the near by Witch's Rock was euphoric and a great way to lightly hike through the mountains.
Candice B
December 13, 2013— TripAdvisor.com