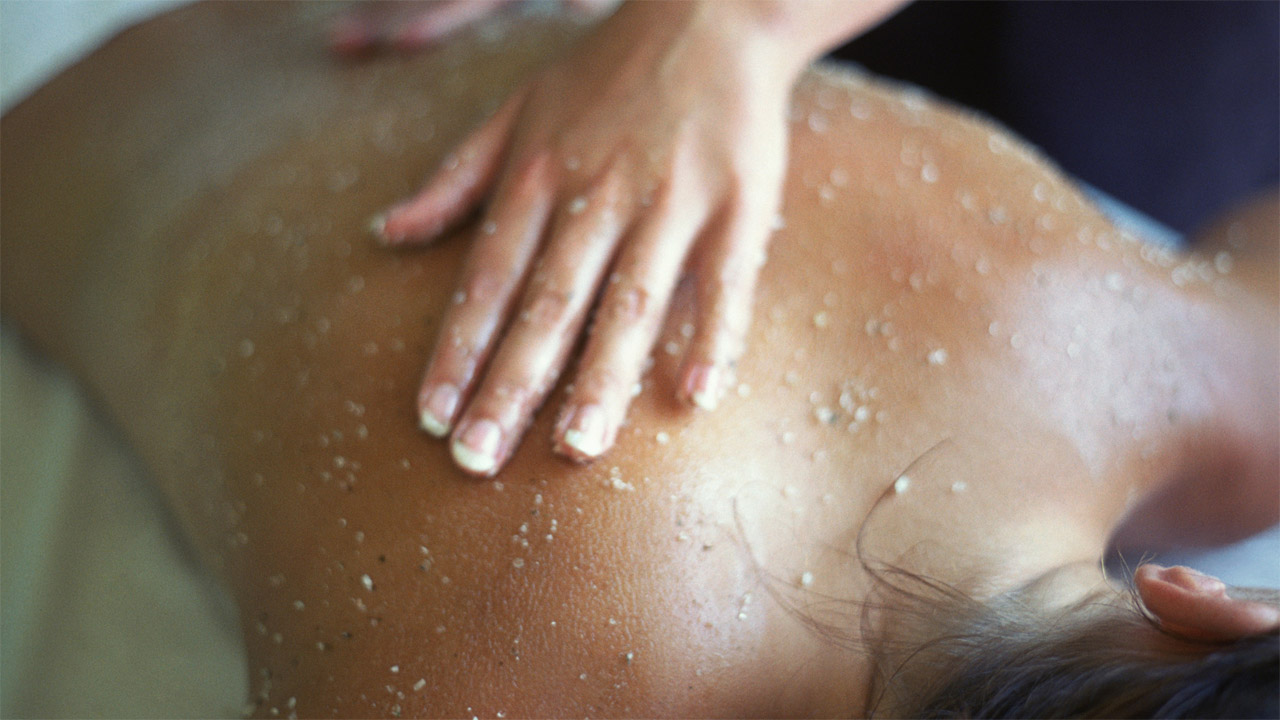 Lavender milk and honey cocoon
This comprehensive whole-body treatment restores the glow of health. It begins with a whole-grain and organic-oil body buff to increase the skin's vibrancy and stimulate circulation. Next, a velvety blend of pure honey and warm lavender milk envelops you in a nourishing cocoon that feeds the skin and renews its elasticity. Finally, a lavish full-body massage using pure herb and lavender cream brings you to a state of deep relaxation.
100 Minutes - 335 USD
100 Minutes
USD 335
Call 1 (818) 575-3010
California Dream
This signature service begins with a gentle exfoliation of sugar cane extract infused with shea butter, noni, safflower and other soothing oils that will leave your skin hydrated and radiant. A detoxifying, peppermint clay body mask is applied to draw out impurities and toxins from the skin. Your experience concludes with a nourishing cocktail of grape stem cell and white tea body butter that will leave your skin renewed and hydrated.
80 Minutes - 280 USD
80 Minutes
USD 280
Call 1 (818) 575-3010
Ginger Lime Sugar Glow
This mild exfoliation begins with the perfect blend of sugar cane infused with ginger that will leave your skin looking and feeling refreshed and vibrant. Next, skin is cleansed with a healing Kombucha body wash. This treatment is concluded by an application of warm coconut and argan massage oil.
50 Minutes - 170 USD
50 Minutes
USD 170
Call 1 (818) 575-3010
Organic Body Polish
This unique treatment combines the exfoliating properties of organic apricot seed, oat kernel, walnut shells,and nourishing properties of jojoba, shea butter and vitamin E, delivering superior hydration. White grape stem cells, green and white tea deliver anti-aging and toning effects to the skin.
50 Minutes - 170 USD
50 Minutes
USD 170
Call 1 (818) 575-3010
Detox Body Wrap
Detoxify and soothe away muscle aches and pains with this deeply therapeutic body wrap. This treatment also includes a full body exfoliation, Knesko marine collagen mask and a scalp and neck massage
50 Minutes - 185 USD
80 Minutes - 285 USD
50 - 80 Minutes
USD 185 - 285
Call 1 (818) 575-3010
Waxing services
Lip, chin, and brow waxing must be reserved within a facial service.

Chin wax
40 USD
Lip wax
35 USD
Brow shape wax
45 USD
Underarm wax
40 USD
Half arm wax
55 USD
Bikini line wax
75 USD
Face wax
100 USD
Full leg wax, including feet
120 USD
Full arm wax
80 USD
Chest wax
90 USD
Back wax
110 USD
Half leg wax
60 USD
USD 35 - 120
Call 1 (818) 575-3010
Note: Prices and treatments are subject to change without notice.