Function Rooms
Dumbarton Room and Conservatory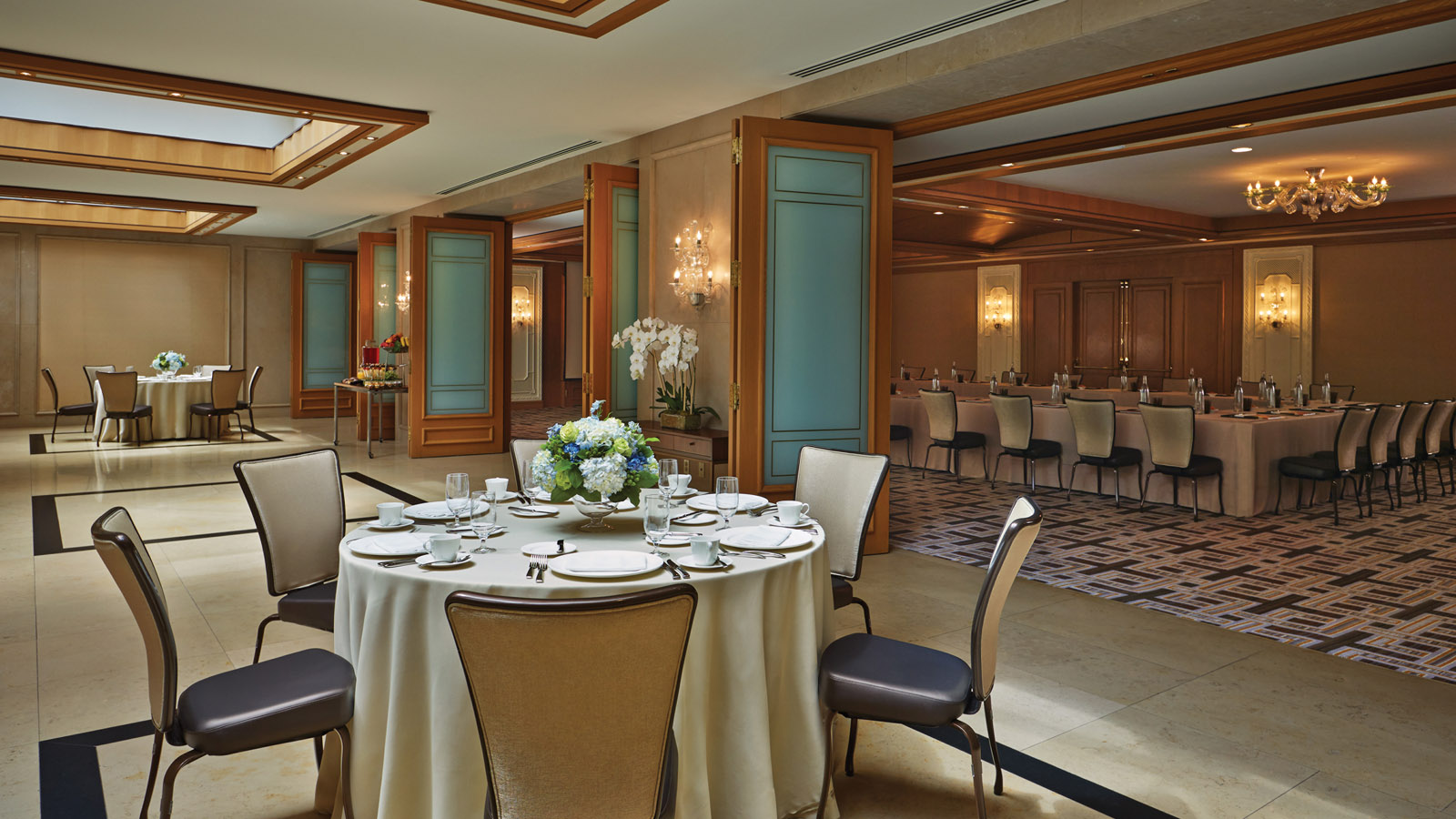 Discover a truly unique meeting venue. The traditional Dumbarton Room opens into the Conservatory, an exquisite, light-filled space with a wall of windows, pyramidal skylights and a graceful inlaid mahogany tray ceiling. The Conservatory may also be used as a separate venue for more intimate events. This is an inspiring, uplifting setting for meetings or private lunches.
Custom-Designed Beauty
A rich palette of gold, yellows and taupes
Custom damask wall coverings
Imported French limestone floor
Beautiful black granite stone and anegre millwork
Graced with Light
Expansive windows and pyramidal skylights allowing plentiful sunlight
Glowing Italian chandeliers suspended from an inlaid mahogany tray ceiling
Walls lined with Venetian glass sconces
Flexibility in Many Forms
Adjacent to a beautiful outdoor terrace
May be divided to create a smaller function rooms

Fitted with advanced audio systems
Technology and Audiovisual
Internet
Wired or wireless, high-speed Internet access via our Internet service provider, designed to meet the needs or large groups
Redundant high-speed access with up to 500 MBPS of bandwidth/speed
Separate, dedicated network access with up to 350 MBPS of bandwidth/speed
Public IP addresses
Customised wireless network names (SSID) and passwords
On-site IT support

Staging
Drop-down ceiling screen: 9.5' x (up to) 8' H (adjustable for 4:3 or 16:9 aspect)

Projection
5,500 & 7500 lumen 1080p projectors
Rear and front projection options
Tripod and fast-fold dress screens
ClickShare content routers for multiple laptops
Seamless video switching devices
Video IMAG and recording capabilities

Lighting
Ceiling mounted lighting options including stage wash and pin-spots
iPad touch-panel lighting controls
Wired and wireless up lighting
Gobo and logo projection
Capability for video mapping and moving lights

Sound
Installed sound system with house patch to the Hotel's Playlist Generation
Wireless lavaliere and hand-held microphones
Wired and wireless push-to-talk microphones
CatchBox audience interaction microphones with optional custom box covers
Audio recording capabilities

Tele-Conference & Video-Conference Services
Audio and full video-conference options
Live-Stream options internally and externally from the Hotel
Seating
Classroom
Hollow Square
U-shape
Theatre
Reception
Banquet rounds
Conference/Boardroom

108
60
51
200
250
150
48

Room Features
Nearby breakout rooms and pre-function space

Location
CONFERENCE LEVEL
Size
Area
Dimensions
Height

170 m2 (1824 sq.ft.)
9.8 x 17.4 m (32 x 57 ft.)
3 m (9.10 ft.)

Bathrooms
Accessible
Note: Height shown is actual clearance height.