Our Extraordinary Experiences
Ice Driving Near the Arctic Circle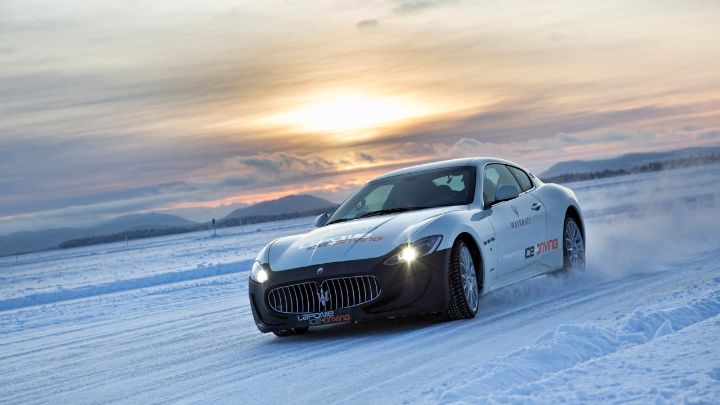 Turn your motorsports fantasies into reality with a personalised lesson in drifting, set on a frozen lake under the Northern Lights of Swedish Lapland. On this exclusive adventure, fly two hours from Four Seasons Hotel Lion Palace St Petersburg aboard a private jet and helicopter to arrive at this northernmost part of Sweden, known during the winter months as the European capital of extreme driving.
The site of your lesson is Lake Udjaur, which in its frozen state is transformed into a 500-hectare (1,250-acre) private drifting area – the largest driving centre in the world, boasting 12 different tracks that include full-scale, licensed reproductions of legendary Formula One circuits. Behind the wheel of a Lamborghini, Porsche, Maserati or Nissan GT-R (or another of 30 exceptional sports cars specially prepared for driving in these extreme seasonal conditions), perfect your drifting skills at speeds up to 200 kilometres per hour (125 mph) and cover up to 250 kilometres per day, the equivalent of an F1 Grand Prix. The courses are barrier-free and surrounded by stunning views of frozen lakes, immense forests of snow-covered pines and Arctic tundra.
Just 70 kilometres from the Arctic Circle, this terrain is equally enchanting for non-driving companions, who can traverse fresh-fallen snow on a dogsled tour, capture the natural beauty of the moose on a photo safari, or enjoy their own high-speed adventure on a snowmobile. Warm up with lunches and dinners together in a private lounge, and sip evening cocktails before settling in for the night in an Iglootel.
Reservations: +7 (812) 339 8000. This experience is available January 9 through March 20, 2016. Please contact the Hotel for more details.
From a four-level glass-enclosed spa with vitality pool and Russian steam room, designed to exude warmth on even the coldest winter day, to full-service business facilities available 24 hours, Four Seasons Hotel Lion Palace St. Petersburg offers modern amenities amid 19th-century opulence.
Fitness Facilities
The four-level Health Club offers 24-hour access to cutting-edge equipment for cardio and weight training, and a relaxation pool is set beneath a sunlit glass dome.