My Four Seasons
The Ultimate Romantic Getaway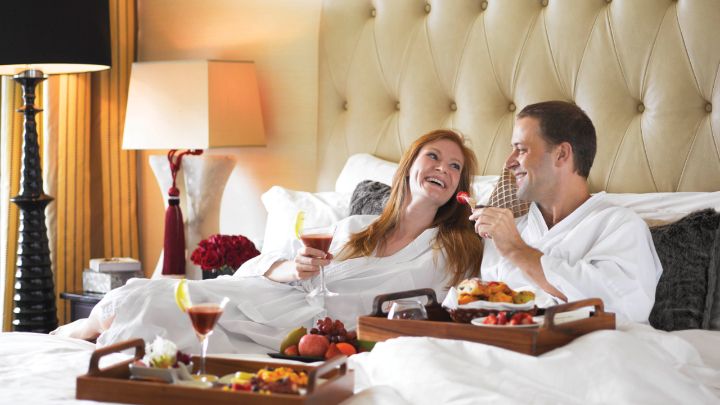 More Four Seasons Stories
You light up when you hear your song. Your eyes meet for a private joke. And you've weathered some of the storms of life together. Now, there's a floor to celebrate the bond you share: the Couples' Floor at Four Seasons Hotel Singapore.
Specially designed for couples, the Couples' Floor is located on the 11th floor and is designated adults-only. Rooms feature an enticing array of thoughtful touches, ranging from elegantly presented fruit and chocolate, sensual massage oil and soothing L'Occitane bath amenities to an inspirational "Love Box" with poems and a selection of romantic CDs and DVDs.
Savour the luxury of uninterrupted time together—the housekeeping doorbell will not ring until after 12:00 noon, and check out is delayed until 1:00 pm. Choose from a variety of delectable breakfast or brunch options, delivered right to your room. You may also consider treating yourself to one of our enticing package options, including breakfast in bed (complete with a Bloody Mary cocktail bar), an in-room massage for two, or a relaxing bath specially drawn by our Bath Butler.
To make your stay truly personal, be sure to take advantage of our dedicated Experiential Assistant (EA). Much like an impeccably trained butler or concierge, your EA works behind the scenes before, during and after your stay to create a bespoke experience. Your EA can provide customized recommendations for an insider's view of the city's restaurants and cultural scene, or simply take care of details like your ideal room temperature or pillow preferences.
Whether you're celebrating a milestone anniversary or want to elevate a romantic getaway weekend in Singapore to a whole new level, the Couples' Floor at Four Seasons Hotel Singapore ensures that your time together is effortless, magical and memorable.