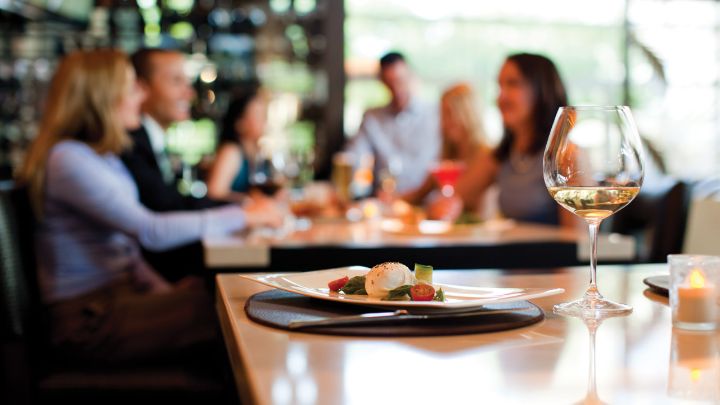 CHRISTMAS EVE
Three courses | Wednesday, December 24 from 5:30 pm – 10:00 pm
The evening before Christmas is the perfect time to start gathering the loved ones and celebrate with a festive dinner at Quattro. This special menu includes Ahi Tuna "minute steak" and Filet Mignon.
Cost: USD 85 per person
CHRISTMAS EVE
Four courses | Thursday, December 25th from 12:00 pm – 8:00 pm

Gather the whole family and spend a special Christmas at Quattro with a four-course prix fixe menu highlighting the best in holiday fare! Executive Chef Marco Fossati will be dishing out delicious Sweet Potato Gnocchi, Mary's Farm Roasted Chicken, and "The Monster" Kobe Beef Burger plus much more. Executive Chef Eric Keppler has a few sweet treats up his sleeve to create an elegant, memorable spread not to be missed.
Cost: USD 95 per person, including dessert buffet
Specialties
The restaurant features traditional and innovative Italian inspired cuisine that highlights seasonal ingredients at the height of their potential, sourced from the local farming community. While old favourites remain, menus are frequently updated to give guests the opportunity to experience a selection of the chef's daily inspirations. Quattro's mixologist offers a seasonal cocktail list that matches the creativity and novelty of the cuisine – and presents a perfect way to begin or end any occasion.
Hours
| | | |
| --- | --- | --- |
| Breakfast | Monday to Friday | 6:30 am – 11:00 am |
| Breakfast | Saturday and Sunday | 6:30 am – 10:00 am |
| Brunch | Saturday and Sunday | 10:00 am – 2:30 pm |
| Lunch | Monday to Friday | 11:30 am – 2:30 pm |
| Dinner | Every day | 5:30 pm – 10:00 pm |
| Intermezzo | Every day | 2:00 pm – 12:00 midnight |
Quattro's contemporary setting is enhanced by natural stone and wood elements evoking the environment of the peninsula. The restaurant's atmosphere is one of conviviality and community, supported by the personalized hospitality of our service team and the best in Italian inspired cuisine. On the outdoor terrace, guests can dine amid the natural beauty of the Palo Alto surroundings, complemented by the relaxing sound of the water wall.

Visit Quattro Italian Restaurant in Palo Alto
Quick Reference
Cuisine
Contemporary Italian

Location
First floor
Indoor seating
110
Outdoor seating
50
Attire
Business casual
Reservations
Recommended for lunch and dinner.
Call 1 (650) 470-2889
Make a reservation online
Official website