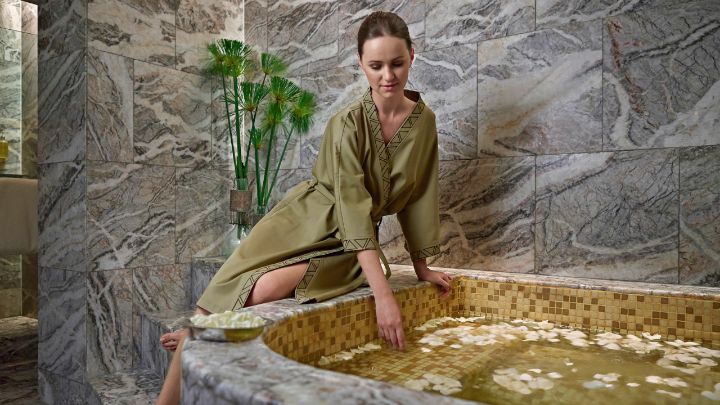 The Egyptian Masterpiece
Throughout the ancient world the Egyptians were renowned for their scents, perfumes and beauty rituals. The Egyptian Masterpiece features Egypt's best and timeless tradition - interpreted for the 21st century royals and connoisseurs.
Treatment highlights:
Carob, Cocoa & Honey Scrub
The Egyptian Scent Alchemist Massage
Juniper & Artemisia Hair Wrap
Frankincense & Moringa Perfumed Bath
The Bedouin Ceremony
The Bedouin are people of the desert and mountains, scattered throughout the Arabian Peninsula. Although they live what many would consider a sparse life, they are known for their great generosity. Receiving a visitor is a cause for celebration, and every sojourner is honored by a tea ceremony. The Bedouin Ceremony is a lavish ritual inspired by the Bedouin's gracious hospitality.

Treatment Highlights:
Rose Water & Zatar Foot Washing
Black tea, Thyme & Sage Body Scrub
Rose & Wild Desert Mint Body Wrap
Traditional Bedouin Massage with Rose Tea & Marmaria Oil
Rose Water Bath & Body Scenting
Post-treatment: Bedouin Mint & Sage Tea & Dates
The Sacred Oil of a Thousand Lilies
To the ancient Egyptians, the land of Punt, with its reed, beehive-shaped houses raised on stilts above water, was a mystical place. Here, the Egyptians sourced precious incense and oils and brought back with them the sacred oil of a thousand lilies. Used to anoint deities and royalties, the oil of lilies signified purity and eternal glory. We invite you to experience this rare and magical treat and fall under its exotic spell.


Treatment Highlights:
Oil of Lilies Anointment (Head & Scalp Massage)
A Thousand Lilies Petal Massage
The Divine Land of Punt Lotus & Lily Milk Bath
Eternal Oil of Lilies Body Balm
Note: Prices and treatments are subject to change without notice. Prices are subject to a 12% service charge and applicable taxes.