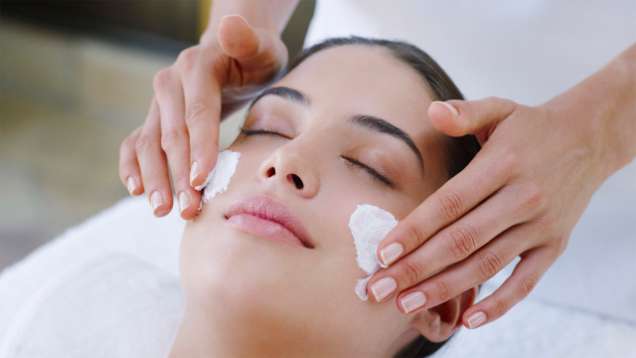 Luxury
A beautician personally designs a face and décolleté treatment for your skin's needs.
Anti-Ageing Care
A youth enhancing treatment, it begins with a relaxing back massage, and is followed by a gentle cleansing and exfoliation. Next, skin is treated with an anti-ageing active massage to help it receive and accept the benefits of this firming treatment. This facial concludes with an application of a hydra-lifting masque, proven to preserve skin's youthful glow.

Oxygenating Care
A treatment designed to improve circulation, this facial activates the elimination of toxins and increases the body's absorption of nutritive elements - especially oxygen. Treatment includes drainage of lymphatic nodes, a detoxifying massage with Amethyst stones, and concludes with an oxygenating peel-off masque. The overall oxygenating care promotes radiant skin and a fresh looking complexion.
Classic
This foundation treatment includes deep cleansing, eyebrow shaping, gentle exfoliation, a face and décolleté mask and a face and neck massage.
Energy
A series of refreshing and energizing massage techniques applied to the face, head and neck work to revive stressed and tired skin. Focusing on the lymphatic system, this treatment increases oxygen and blood circulation to regenerate skin cells.
Collagen Glow
This intensive ultrasound treatment helps revive the natural collagen production of skin that lacks tone.
Rejuvenating
This perfectly moisturizing and nourishing after-sun facial uses a calming and hydrating masque, stimulating and energizing essences, and an aloe vera massage.
Pioneer Treatment
Using Phytomer 100% natural biotechnology ingredients, this treatment exceptional techniques give instant visible results. The innovative ingredients restore the skin's youthfulness, softness and luminosity. The specific face massage completes the action of the products and heightens relaxation.
Extended Youth Treatment
Treatment targeted for first signs of aging, wrinkle correction firming treatment. Using high-performing professional products and a unique procedure which optimizes the effectiveness of their ingredients, it
resurfaces the skin, corrects wrinkles and restructures facial skin. Results of a younger looking face, wrinkles are less visible and skin is firmer and more radiant.
White Lumination
Highly recommend to reveal the radiance of the complexion and diminish dark spots. This treatment offers skin cleansing and chemical exfoliation in order to encourage a new skin effect. Treatment delivers burst of radiance for a glowing face.
Skin Escape for Men
A high-performance professional facial treatment specifically designed and adapted to treat the need of men's skin. Treatment is detoxifying and deep cleansing, which give results of re-moisturized, rejuvenated and soothed skin.
Note: Prices and treatments are subject to change without notice. Prices are subject to a 12% service charge and applicable taxes.