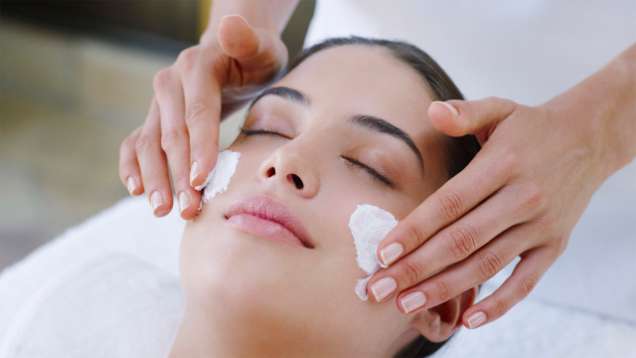 Luxury
A beautician personally designs a face and décolleté treatment for your skin's needs.
Anti-Ageing Care
A youth enhancing treatment, it begins with a relaxing back massage, and is followed by a gentle cleansing and exfoliation. Next, skin is treated with an anti-ageing active massage to help it receive and accept the benefits of this firming treatment. This facial concludes with an application of a hydra-lifting masque, proven to preserve skin's youthful glow.

Oxygenating Care
A treatment designed to improve circulation, this facial activates the elimination of toxins and increases the body's absorption of nutritive elements - especially oxygen. Treatment includes drainage of lymphatic nodes, a detoxifying massage with Amethyst stones, and concludes with an oxygenating peel-off masque. The overall oxygenating care promotes radiant skin and a fresh looking complexion.
Classic
This foundation treatment includes deep cleansing, eyebrow shaping, gentle exfoliation, a face and décolleté mask and a face and neck massage.
Gentlemen's
Designed for men, this foundation treatment deep cleanses, relaxes and smoothes the skin.
Reactivating
This revitalizing treatment uses a microcrystal peel and an ultrasound treatment to stimulate collagen production. It provides a natural glow to skin that lacks lustre.
Purifying
Highly recommended for problem skin, this facial also complements the reactivating face care treatment. It includes a deep cleansing treatment followed by a microcrystal peel to remove the residue of damaged skin and enhance your natural glow.
Energy
A series of refreshing and energizing massage techniques applied to the face, head and neck work to revive stressed and tired skin. Focusing on the lymphatic system, this treatment increases oxygen and blood circulation to regenerate skin cells.
Collagen Glow
This intensive ultrasound treatment helps revive the natural collagen production of skin that lacks tone.
Rejuvenating
This perfectly moisturizing and nourishing after-sun facial uses a calming and hydrating masque, stimulating and energizing essences, and an aloe vera massage.
Note: Prices and treatments are subject to change without notice. Prices are subject to a 12% service charge and applicable taxes.