Savour refreshing cocktails, delightful fine dining selections from a seasonal menu – and pristine views of Puget Sound at ART Restaurant and Lounge in downtown Seattle near Pike Place Market.
For the past six years, ART Restaurant & Lounge has welcomed locals and out-of-town guests with signature Pacific Northwest cuisine, amazing Puget Sound views, friendly service and yes, our famous all-you-can-eat cheese buffet.
Join us as we begin a new chapter this spring: ART Restaurant & Lounge will be closed from March 16, 2015 to the late spring for a restaurant renovation.
Questions? If you're as excited as we are, sign up to receive updates as we finalize details and be among the first to make reservations when we re-open. In the meantime, stay connected with the Hotel on Facebook, Twitter, Instagram, Pinterest and Vine.
For restaurant reservations before March 15, 2015, please contact ART Restaurant at 206-749-7070.
Dining at Four Seasons Hotel Seattle
From a contemporary restaurant and lounge to a rooftop pool terrace and 24-hour In-Room Dining, Four Seasons Hotel in downtown Seattle reinvents hotel dining with unique culinary delights.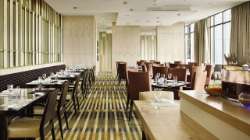 ART Restaurant
The spectacular natural beauty of the Northwest infuses every aspect of ART Restaurant in Seattle: from market-driven Pacific cuisine to the natural woods décor to an extensive selection of Washington wines.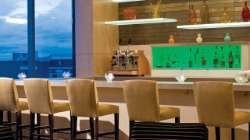 ART Lounge
Unwind with a handcrafted cocktail, sample our creative approach to classic bar food and converse with friends, family or colleagues — all in a modern setting with Northwest-inspired details.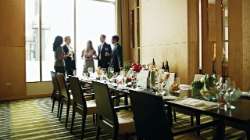 A Private Affair
Host a social or corporate event for up to 22 in ART's private dining room. Black and white photographs of famed Pacific Northwest artists, and sweeping bay views, heighten an intimate dining atmosphere.
Additional Information