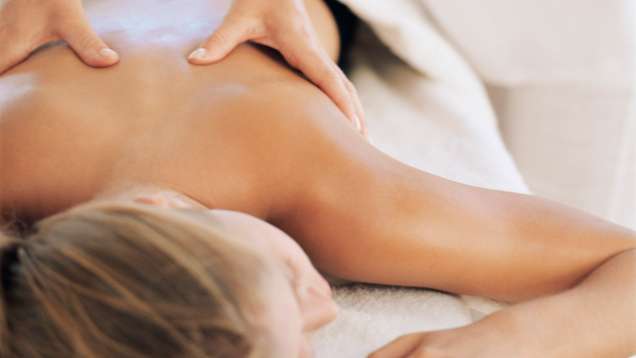 In-casita
Enjoy a massage in the privacy and comfort of your casita or on your terrace, under the desert's night sky. Advance booking recommended.
Duo
Indulge in the ultimate "couples therapy" with a side-by-side massage for two.
In symphony
The ultimate in relaxation: two therapists simultaneously perform Swedish massage techniques.
Custom
What our bodies require in order to relax and repair changes frequently. This 100% customizable massage is specifically modified each and every time to meet your changing needs. With pressure ranging from light to firm and a variety of essential oil blends, we've got you covered.
Thai
A blend of stretching, acupressure, meditation and healing arts helps to adjust the skeletal structure and increase flexibility, leaving you feeling relaxed and rejuvenated. Loose-fitting workout wear or yoga garments are highly recommended for this treatment.
Massage 101
Learn professional techniques for home use while receiving massage from both our professional therapist and your partner.
Hot stone
Using smooth, warm stones, gentle pressure is applied to bring relief to tense muscles and sore joints.
Healing hiker's
This full-body massage incorporates mountain arnica and sage to ease inflammation and soreness. Special attention is paid to the legs to help rejuvenate tired muscles.
Sole satisfaction
Treat your feet to our ultimate foot pampering. Following a refreshing exfoliation, pressure, rubbing, and pulling techniques re-establish energy flow to the feet.
Maternity
This massage is designed to treat the specific needs of the mother-to-be. Performed only after the first trimester.
Scalp express
Reduce stress with this heavenly scalp massage. The treatment concludes with a nourishing oil that is left in the hair for maximum results.
Dream Weaver Massage
This massage begins with a guided relaxation designed to promote restfulness and calm. Long flowing strokes are used to pull energy from the body and leave you ready for sleep. Featured in this service is the Body Bliss' "I Dream" massage oil, which contains lavender, ylang ylang, and vetiver to promote relaxation and to improve mood. Guests will receive a take away gift of special "I Dream" bath salts to continue the relaxation in their room or at home. Available 3:00 pm and later.
Massage enhancements
Enhance your massage with one of the following add-ons.

Got Knots?
For your biggest problem area enjoy a warm compress, followed by an application of Yoga Balm. This 100% organic, self-heating muscle rub combined with firm pressure will help to detoxify, reduce inflammation and improve blood flow.
Skin Quencher
Enjoy a Dead Sea salt scrub on your back to remove dry skin and a full body massage with deeply hydrating shea butter. A perfect way to take care of your skin in the dry Arizona climate.
Head in the Clouds
Relax as your therapist performs a targeted pressure point massage specifically designed to relieve sinus/allergy pressure as well as tension headaches. A choice of peppermint or eucalyptus oil is offered. This heavenly combination is sure to leave you feeling back on top of the world.
Sore No More
Relive sore muscles with this ultimate full body therapeutic massage using "Sore Muscles" oil containing mountain arnica, lavender and sweet marjoram. Deeply penetrating hot stones will be used on the neck, shoulders and back to help release tight areas. Take-home Epsom salts are provided to continue the healing process in a soothing bath in your room or at home.
Note: Prices are subject to change without notice. Salon hair-service prices are subject to increase depending on the length and texture of the hair.