Of all our complimentary Scottsdale resort services and amenities, this is perhaps our finest – a multilingual staff waiting to fulfil every request and see to your every need.
| | |
| --- | --- |
| 24 | hour business centre |
| 2 | tennis courts |
| 2 | outdoor pools |
| 1 | children's wading pool |
Anyone For Tennis?
Hit the courts on the Resort's grounds for a rousing game of tennis or two.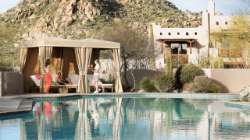 A Desert Oasis
Enjoy a dip in our heated outdoor pool, lounge poolside in one of many cabanas, and soak up stunning views of the desert's jagged beauty.
To Your Health
Keep up with your fitness regimen 24 hours a day. In addition to cardiovascular and weight-training equipment, we offer yoga and spinning sessions.