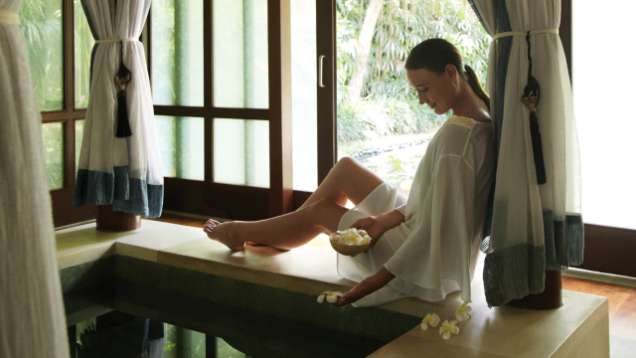 Offering a truly Eastern healing experience, our spa's signature treatments showcase authentic Balinese traditions designed to balance the body's chakras. Chakra is a Sanskrit word meaning wheel or disk. The body's seven main chakras each sit at the intersection of the vital energy channels that run along the spinal column. Representing the spread of physical energy throughout our bodies, these chakras also govern the circulation of the astral, emotional and spiritual energy that flows within us. When our chakras are regularly cleansed and balanced, our physical, mental, emotional and spiritual bodies are able to function at their optimal levels.

We suggest you select the treatment that most resonates with your current life condition. We recommend one chakra treatment per day.

Muladhara
Muladhara – the root chakra – is located at the base of the spine, anchoring you to the earth. Being well-balanced in this chakra is especially important if you travel frequently, if you've experienced a relocation, or if you've started a new chapter in your life. Balancing Muladhara calms the body and mind, creating a profound inner peace that helps free your full potential.

Twice a month in the Balinese calendar, it is a ritual to cleanse the body from negativity to bring good health. In Balinese tradition, a priest or priestess carries this out after special ceremonies using a sacred and secret mantra, by working with the root chakra to cleanse and open it to the earth.

Combining a foot wash, Balinese sacred kemenyan smoke and the soothing sound of singing bowls, this treatment features a slow, deep massage using locally grown ginger and cinnamon in a grounding blend of vetiver, patchouli and jatamansi oils. The experience induces a deep sense of stillness that will leave you feeling ready to take on the world.
Swadhisthana
Swadhisthana – the sacral chakra – is located in the lower abdomen. It governs fertility, sexual virility, self-worth and creativity. When it is functioning well, Swadhisthana brings enhanced emotional gratification, higher self-esteem and free-flowing creative energy. In Bali, this chakra plays a significant role during ceremonies for weddings, pregnancy and becoming a teenager. Singing mantras are used to bring balanced emotions, strength and health.

Ideal for couples to experience together, this nurturing treatment combines a deep lymphatic scrub, Vichy shower and a detoxing bath, accompanied by an elixir to drink. This cleansing is followed by a flowing massage and chakra warming using nourishing oils of jasmine, patchouli, rose and sandalwood. The treatment concludes with the "breath of peace" meditation, featuring cempaka flowers. Happiness is renewed and the desire for life and love is reinvigorated.
120 minutes – IDR 2,300,000
Couple: 120 minutes – IDR 4,300,000
Manipura
Manipura – the navel chakra – is located in the solar plexus and is our centre of health and beauty, governing our capacity to grow and develop. It is important to keep in balance if you desire more inner strength, sense of purpose and self-confidence. In the everyday life of the Balinese, offerings are made in prayer to the gods at least twice a day to help provide self-worth, guidance, protection and strength.

This elevating treatment floods the body with vital energy and inner warmth. The experience begins with an energizing and detoxifying foot and body scrub with freshly grated local ginger and local lemongrass, known for its warming and energizing properties. A bio-energy mud wrap is followed by a lemongrass and basil bath accompanied by a refreshing and warming ginger and lemongrass elixir. A massage with vital energy oil restores inner radiance and positive feelings, brings renewed strength and health, and leaves the skin brilliantly lustrous.
Anahata
Anahata – the heart chakra – is located in the chest and serves as the centre of unconditional love, governing compassion, forgiveness, generosity and well-being. Balancing this chakra is important for the circulatory system, heart and thymus. Healing the heart helps free us from our limits and fears and reconnects us to the deepest peace. This chakra is very important to the Balinese, who believe that an open heart helps clear negativity and allows only love and compassion to be given and received.

To begin this treatment, rose damascena – the most precious and tender oil for the heart – is used in a warmed poppy and rose scrub. This is followed by a rose and tuberose flower bath while you are served a delicious and soothing rose elixir. A heart-shaped basti is placed on your chest and filled with warmed rose oil and a few drops of healing calendula oil, locally made from the sacred marigold. The oil is then used in a blissful massage, incorporating a rose quartz crystal to reconnect the body and mind to inner peace and stillness. Equilibrium is restored, leaving you feeling at one with yourself and those around you.
150 minutes – IDR 2,900,000
Couple: 150 minutes – IDR 5,500,000
Vishuddha
Vishuddha – the throat chakra – is located in the centre of the throat. It governs the space element, communication and self-expression, and is linked to creativity and sleep. A strong throat chakra embodies clear thinking, focus, inspiration and vibrant creative energy. Its function is to clear the mind of negative thoughts and feelings. The Balinese traditionally bring balance to the throat chakra by singing mantras and using musical instruments to create vibrational energy. In Balinese culture, this chakra is stimulated at the end of every ceremony by drinking blessed waters.

In this subtle treatment, your therapist guides you in yoga and breathing exercises, accompanied by healing chants and sounds, and smoke from a smudge stick is used to purify and cleanse the body. This is followed by a specialized marma-point facial massage to balance the 16 petals of the Vishuddha chakra. This treatment reconnects the mind to a positive state and encourages a deep and restful sleep while bringing a renewed and vibrant energy to body and life.

Ajna
Ajna – the third-eye chakra – is located in the centre of the forehead and is known as our soul centre. Its importance is linked to the pituitary gland. When balanced, this chakra has a harmonizing effect on our emotional behaviour. Balance here inspires us to reconnect to our inner beauty, stillness and peace of mind. The Balinese believe that the best way to unblock and balance Ajna is through meditation.

This treatment uses various balancing methods personalized to you, including Kriya yoga, meditations, breathing techniques, and applications of the essential oils of sandalwood and jasmine. Each chakra is blessed using a flow of warm oil, including a local herb, daun piduh, known for its spiritual and healing qualities. Specific marma and light massage techniques help to reconnect to your inner light and joy, releasing exhaustion and emotional stress. The facial is enhanced by the use of Himalayan poultices on the two petals of Ajna. The session concludes with a revitalizing, immune-boosting wellness drink. The mind feels light, peaceful, clear and knowing.
Sahasrara
Sahasrara – the crown chakra – is located at the top of the head. Symbolized by a lotus flower with one thousand petals, it is the chakra of pure consciousness. It represents liberation, inner wisdom and – as the point of entry for celestial energy – is our connection to the universe. The top three chakras on the body – Vishuddha, Ajna and Sahasrara – are all considered the spiritual chakras, focusing on self-awareness, peace and enlightenment. In Balinese culture, the head is sacred and mustn't be touched without invitation, because it is believed to be the link to divine love.
The Sahasrara treatment begins with a kundalini foot scrub and back massage using orange blossom and jasmine oil, attracting universal light. The crown of the head is anointed with a special oil and then the head is massaged and treated with a hair mask. This enlightening and unifying treatment rejuvenates the nervous system through a sequence of massages that channel energy from the heart of the earth to the higher self, regenerating the life force and encouraging you to reconnect with your source.

Note: Prices and treatments are subject to change without notice. Prices are subject to a 21% tax and service charge.