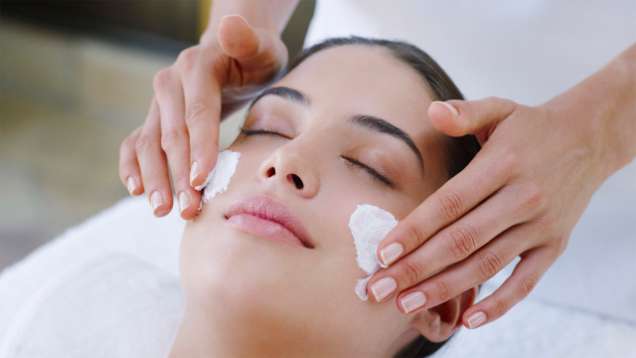 Custom designed for your skin type, our facials bring out a natural, healthy and youthful glow. Opt to enhance your facial with specialized treatments for the hands and eyes.
Marine Algae
This holistic, deep-cleansing facial features a new technique called nerve-point therapy, designed to help calm the nervous system by smoothing out the nerves and releasing facial tension and stress. We use a special blend of active ingredients from the sea: sea lettuce, plankton, sea lavender and bio-plasma seaweed. This facial helps boost and drain the lymph while purifying and cleansing the skin. The treatment is deeply hydrating, reduces puffiness and helps to even the skin tone.

Ananda
This facial is inspired by a technique taught by shaman women, who appear to be ageless. Their skin features a beautiful luminance thanks to their understanding of the rejuvenating effects of the energy of light. This facial is a holistic experience focused on opening the third-eye and throat chakras. A marma-point massage, followed by authentic shamanic techniques, stimulates the free flow of energy, helping to remove blockages. To conclude, a mineral-rich clay mask and the application of rose and sandalwood oil reveal the skin's natural radiance. This is a perfect treatment to combat the effects of jet lag.

Rejuvenating
This subtle, anti-ageing facial has many layers, rejuvenating the skin with radiant energy while calming the mind and promoting restful sleep and sweet dreams. The combination of oils – sea buckthorn, jasmine and orange blossom – has been chosen for its regenerative abilities and spiritual qualities resonant with the throat chakra. A lavender and honey mask aligns with the 16 flower petals that traditionally represent the throat chakra in Kriya yoga. For the finish, warmed Himalayan poultices purify the mind and promote relaxation.

Facial Enhancers
Hand Rejuvenation
The perfect add-on for hard-working hands, this treatment begins by rejuvenating the muscles with a relaxing marma-point massage, working on essential reflexology points, before a cream mask with essential oils brings moisturized youthfulness back to the skin.

Windows to the Soul
This cooling and reviving add-on eye treatment using neem extract softens the skin to help reduce puffiness and the appearance of fine dehydration lines. A marma-point massage relieves stress, providing a perfect soother for headaches and tired eyes.

Note: Prices and treatments are subject to change without notice. Prices are subject to a 21% tax and service charge.