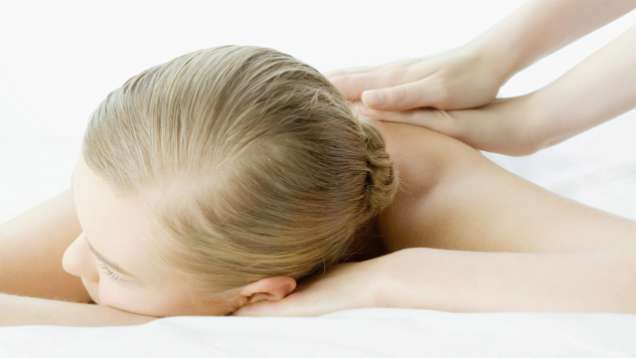 Our range of body treatments has been designed to restore and improve the condition of your skin, as well as detoxify and hydrate your entire body.
Body scrub
This full-body exfoliation treatment leaves your skin feeling soft and velvety smooth. It includes an application of a skin moisturiser.
20 Minutes - 82 USD
20 Minutes
USD 82
Call 1 (415) 633-3000
Firming body wrap
This detoxifying and firming treatment begins with a citrus herbal body brushing to stimulate lymphatic drainage and start the body's detoxification process. Peptides are applied to specific areas to stimulate collagen production and firm the skin, then your body is covered in an Espresso Limón Slimming Oil to further purify and tone. A refreshing signature enzyme body mist completes the body-beautifying experience.
50 Minutes - 182 USD
50 Minutes
USD 182
Call 1 (415) 633-3000
Healing body wrap
This healing wrap treatment starts your cleansing process with an antioxidant-rich old world salt scrub, preparing your skin for a powerfully detoxifying volcanic clay body mask that absorbs toxins while simultaneously delivering mineral nutrients. The volcanic clay will stimulate blood circulation while gently exfoliating and cleansing, helping to deliver the essential extracts of lavender, mandarin, rosemary, sage and licorice, which work to restore and enhance the skin, hydrate, heal and soothe inflammation.
80 Minutes - 192 USD
80 Minutes
USD 192
Call 1 (415) 633-3000
Renewing body treatment
This hydrating and exfoliating treatment consists of a gentle removal of dry skin cell skins followed by a penetrating massage of oils and crèmes containing vitamins A, C and E as well as beta-carotene. A seaweed mask remineralizes, tones and smooths skin. This luxurious renewal treatment provides intense hydration, tightening, firming and generation of new, healthy skin. The result is a more youthful, smooth and rehydrated body.
50 Minutes - 182 USD
50 Minutes
USD 182
Call 1 (415) 633-3000
Aromatherapy aloe wrap
This wrap treatment combines the power of aromatherapy with the therapeutic properties of aloe vera to deeply hydrate. After the skin has been exfoliated, a blend of warm aloe and aromatic plant essences is applied while a scalp massage leaves you feeling refreshed.
50 Minutes - 176 USD
50 Minutes
USD 176
Call 1 (415) 633-3000
Dry skin relief
This body treatment is designed to purify and nourish the skin while offering deep relaxation. A stimulating full-body exfoliation is followed by the application of a hydrating mask. The body is then wrapped for maximum hydration while you receive a relaxing scalp massage.
80 Minutes - 192 USD
80 Minutes
USD 192
Call 1 (415) 633-3000
Waxing and Tinting
Lip – 23 USD
Chin – 23 USD
Eyebrows – 44 USD
Full face – 77 USD
Underarm – 32 USD
Arm – 72 USD
Half arm – 55 USD
Bikini – 62 USD
Half leg – 55 USD
Full leg – 82 USD
Half leg and bikini – 109 USD
Full leg and bikini – 136 USD
French bikini – 72 USD
Brazilian bikini – 82 USD
Half leg and French bikini – 121 USD
Full leg and French bikini – 147 USD
Half leg and Brazilian bikini – 131 USD
Full leg and Brazilian bikini – 159 USD
Patch – 21 USD
Back – 77 USD
Chest – 72 USD
Lash tint – 39 USD
Brow tint – 39 USD
Lash and brow tint – 60 USD