Four Seasons Hotel Prague interweaves centuries of remarkable history and architecture with all the conveniences of modern technology. In the middle of vibrant Old Town Prague, experience an enclave at the edge of the Vltava River, just steps from the Charles Bridge.
May we help you plan your stay with us?
ABOUT
FOUR SEASONS HOTEL PRAGUE
Local Time:
•
Local Temperature:
15°C / 59°F
Veleslavínova 2a/1098,

110 00

Praha 1, Czech Republic
Tel.

420 221 427 000

Fax.

420 221 426 000
At this luxury hotel in Old Town Prague, a contemporary main building unites three historic edifices – classical, renaissance and 18th-century baroque buildings – for an architecturally unique structure.
Learn more about our accommodations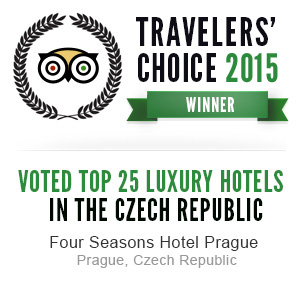 reviews at a glance
from

See all reviews
reviews at a glance
from

See all reviews
TripAdvisor

Twitter

Facebook

Room Rate
Best available room rate. Our most flexible option.
Business Centre computers
Multilingual Concierge
Daily newspapers
24-Hour Health Club
Early-morning coffee service
24-Hour In-Room Dining
Complimentary restaurant meals for children under five
Age-appropriate children's treats
The "city of a hundred spires," Prague is endowed with an incredible mix of Gothic, Romanesque, baroque and art nouveau architecture. Once the crossroads of centuries-old trade routes, it's now the cultural and economic centre of the Czech Republic, and one of the most visited cities in Europe. Experience the city in luxury at Four Seasons Hotel Prague.
Read more
Further Reading
Private Castle Tours
Explore the majestic Karlstejn Castle on a private tour with Four Seasons expert guide Marketa Kratochvilova.
Bohemian Crystal
Cut through the clutter to Prague shops specializing in world-reknowned Bohemian crystal and glass work.
Five Activities Kids Will Love
From Prague Castle and Charles Bridge to Petrin Tower and the Mirror Maze, here's how to entertain even the most energetic youngsters.