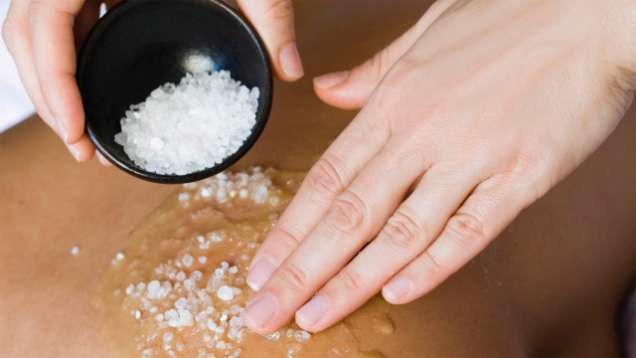 Online spa booking
Book your body treatment or other spa service online. Reserve now for your preferred treatment time.

Body treatments by Sodashi
Call 33 (0) 1 49 52 72 10
Back treatment
A deep-cleaning back treatment designed for blemished skin. The back is cleansed, exfoliated and steamed to open pores, encouraging the removal of impurities. This treatment finishes with a light massage, leaving the skin softer and smoother.
50 Minutes - 195 EUR
50 Minutes
EUR 195
Call 33 (0) 1 49 52 72 10
Sodashi Body Exfoliation
The perfect treatment that lifts away dead skin cells, while oxygenating and soothing the skin. Choose your natural exfoliant amongst special Sodashi blends: smooth Jojoba beads for a gentle exfoliation, revitalising Vanilla & Sandalwood for soothing body tensions, mind and spirit or Dead Sea salt & Green tea for an invigorating exfoliation. As a final touch, your skin is deeply nourished and rejuvenated with a Sodashi aromatic body cream.
50 Minutes - 195 EUR
50 Minutes
EUR 195
Call 33 (0) 1 49 52 72 10
Contouring Body Wrap
Starting with an invigorating exfoliation that combines finely ground pumice and volcanic clay your treatment is then followed with a comforting body wrap of Sodashi's warm body mask. Enriched in carefully selected marine extracts, plant essences and algae used to stimulate the lymphatic system and assist in removal of accumulated toxins which are a common cause of cellulite. After a refreshing shower, Sodashi's specialized contouring gel and cream are applied leaving your skin feeling and looking toned and lustrous.
80 Minutes - 260 EUR
80 Minutes
EUR 260
Call 33 (0) 1 49 52 72 10
Detoxifying body wrap
Deeply detoxifying, this treatment combines the richness of sea plants, algae, marine minerals and plant essences. Enjoy a deep exfoliation that leaves your skin soft and enlivened, followed by Sodashi's warm body mask. Rest and restore your energy while enjoying a soothing scalp massage for a total relaxation. For a finishing touch, a luscious lotion leaves your body rejuvenated.
80 Minutes - 260 EUR
80 Minutes
EUR 260
Call 33 (0) 1 49 52 72 10
Refining Body Wrap
This treatment begins with Sodashi's Jojoba Body polish to exfoliate and cleanse the whole body. A nurturing full body mask is applied and you are then cocooned in a comforting body wrap whilst enjoying a scalp massage for total relaxation. This rejuvenating therapy is extremely beneficial for reducing stretch marks and for reviving your skin.
80 Minutes - 260 EUR
80 Minutes
EUR 260
Call 33 (0) 1 49 52 72 10
Body treatments by Carita
Call 33 (0) 1 49 52 72 10
Perfect Body Treatment
This anti-ageing firming body treatment is an extreme sensory experience combining pleasure and results as it acts precisely where your skin needs it. Your contours are refined and your body is toned thanks to a unique massage technique that combines Cinetic Lift Expert with Perfect concentrate for body, a highly concentrate serum packed with firming active ingredients. For an optimal result, the 5 sessions are recommended in a 2 weeks cure. Your skin feels firmer and perfectly hydrated, radiating with youth once again.
Series of five treatments – 990 EUR
EUR 990
Call 33 (0) 1 49 52 72 10
Intense Refining Contour Treatment
This refining treatment precisely targets «concerned» areas, for a refined and toned body. The legendary Rénovateur refines your skin's texture, then a unique and innovative product refining mask is massaged into the skin with draining and stimulating techniques. This effective treatment is complete with the application of the Cinetic Lift Expert and the refining concentrate with an invigorating massage to areas with orange-peel appearance. For optimal results, 10 sessions of this treatment are recommended.
Series of 10 treatments – 1,600 EUR
EUR 1,600
Call 33 (0) 1 49 52 72 10
In-room treatment +EUR 45
Treatments after 9:00 pm +50%
Treatments between 11:00 pm and 8:00 am +100%
We recommend booking your treatment in advance. To do so, please email us or call +33 (0) 1 49 52 72 10.
Our reservation desk is open from 6:30 am to 10:00 pm daily. Treatments are available from 9:00 am to 9:00 pm daily.
Online booking is available.

Gift certificates are available at our spa reception.

We suggest that you arrive 20 minutes prior to your appointment in order to enjoy our facilities, including steam rooms, saunas, the relaxation room and lounge with complimentary refreshments. You may also requrest breakfast or light lunches, ordering from our special spa menu.

Please note that our pool and fitness centre are reserved for guests staying in the Hotel. The only exception is for private classes.

Should you wish to cancel or reschedule, please advise us at least 4 hours prior to your appointment in order to avoid a cancellation fee (100%).