Just two months after opening, Le Cinq restaurant in Paris was awarded its first Michelin star. Within the first year, a prestigous second star was awarded to this exquisite restaurant at Four Seasons Hotel George V, Paris. Today, in 2016, we are delighted to be awarded with a third Michelin star with Chef Christian Le Squer.

Dining
Explore the menu creations that have earned Le Cinq three Michelin stars, and linger in the elegant La Galerie or Le Bar for cocktails or light meals.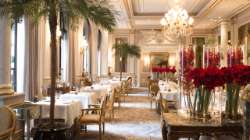 Le Cinq
Le Cinq's restaurant menus draw upon classic French culinary techniques and also embrace newer, lighter cooking styles, always using the freshest regional ingredients. A children's menu is available on request.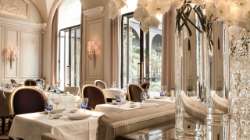 Le George
Le George restaurant in Paris offers a light and modern Mediterranean-style cuisine designed for sharing, with many dishes available in half portions, and a balanced, healthy cuisine bursting with flavour and freshness. Elegant gourmet fare is perfect for special moments. The convivial, gastronomic experience takes guests on a journey between the French Riviera and northern Italy.
La Galerie
Showcasing beautiful Flemish tapestries, 19th-century paintings and furniture, as well as many exquisite objets d'art, the chic La Galerie is the where the most fashionable Parisians gather for a drink or light bite.