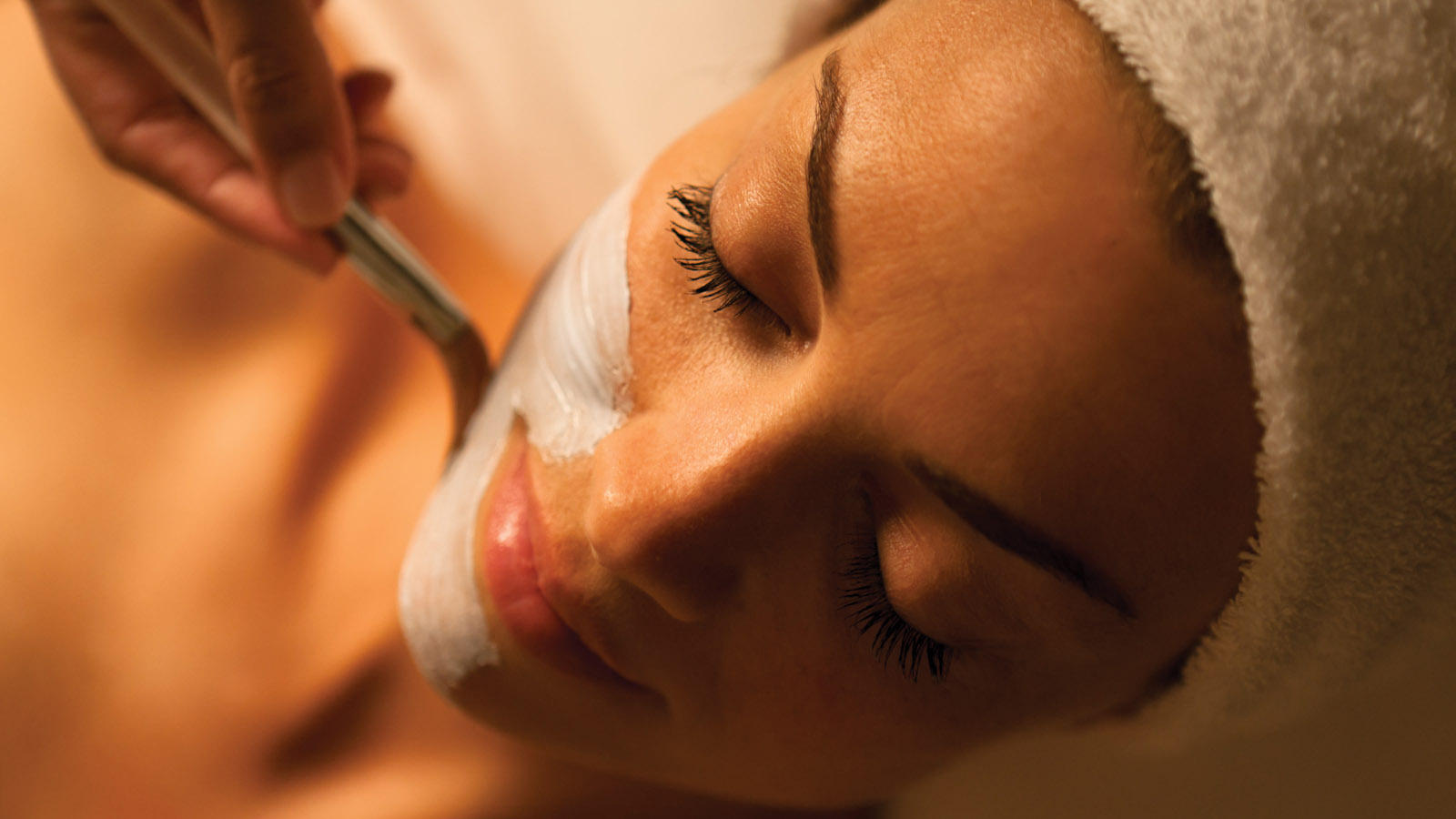 Online spa booking
Book your facial treatment or other spa service online. Reserve now for your preferred treatment time.

amala facials
In our dedication to providing the world's most effective skincare, we proudly offer Amala products and treatments for face and body. Amala's mission is to enhance natural beauty through ethically grown, powerfully pure skincare developed in harmony with nature and fellow human beings.
Fountain of Youth Facial
Regenerate, oxygenate, clarify, balance and deeply stimulate your skin with this facial defined by the use of white and pink clays blended with French spirulina. Your skin will absorb the minerals, vitamins and moisture in the Marine Algae Mask, then an açai and cocoa bean mask will leave your skin looking more radiant and youthful.
80 Minutes - 225 USD
80 Minutes
USD 225
Call 1 (561) 533-3715
Firming Facial
Nourish and rejuvenate your skin with a facial mask of purifying and firming sun-dried sea algae, which opens pores, then traps impurities and removes them. Restorative extracts from fruits and plants of the Amazon will firm the skin, and a stimulating collagen mask will smooth fine lines, renewing the skin's elasticity.
80 Minutes - 195 USD
80 Minutes
USD 195
Call 1 (561) 533-3715
Organic Custom Facial
Nourish and awaken your skin with a customized facial inspired by restorative fruits and plants. Experience the skin benefits of using organic seed oils, which are the source of all new plant life. The whole plant ingredients will soften, balance and renew the skin's elasticity while stimulating cell renewal, providing antioxidant protection and repairing the skin's natural moisture barrier.
50 Minutes - 140 USD
50 Minutes
USD 140
Call 1 (561) 533-3715
Ocean Breeze Refresher Facial
This light cleansing facial firms, smooths and renews your skin's elasticity while stimulating cell renewal and repairing the skin's moisture barrier.
25 Minutes - 100 USD
25 Minutes
USD 100
Call 1 (561) 533-3715
Purifying Back Facial
Restore balance, clarity and radiance to your skin. Ginger, blue lotus and white clay help control excessive oil production and remove impurities from your skin, tiger grass and lemon help diminish blemishes and promote clear skin, and green and white teas provide antioxidant protection, soothe skin and even skin tone for a pure and healthy complexion.
50 Minutes - 140 USD
50 Minutes
USD 140
Call 1 (561) 533-3715
Teen Oil Control Facial
This treatment is inspired by the healing plants and flowers of Eastern Asia to restore balance, clarity and radiance to your skin. Organic ingredients are used to help remove impurities from the skin while controlling excessive oil production.
50 Minutes - 140 USD
50 Minutes
USD 140
Call 1 (561) 533-3715
Kate Somerville Facials
We are pleased to offer specialty facials designed by Kate Somerville, founder of the renowned Los Angeles medi-skin clinic. Addressing skin wellness from both internal and external perspectives, Kate Somerville's products and treatments incorporate leading-edge technology and ancient healing botanicals.
Signature Kate Somerville Facial
This is the ultimate in facial skincare. A visibly effective treatment, this service includes a deep cleanse, enzymatic exfoliation, steam, mineral mud, extraction and massage. Oxygen is then applied to hydrate and nourish the skin. The facial ends with LED phototherapy to increase collagen production and reduce pigmentation. Your skin will be cleansed, hydrated and noticeably healthier.
90 Minutes - 325 USD
90 Minutes
USD 325
Call 1 (561) 533-3715
Deep cleansing
This invigorating and refreshing facial reveals dramatic visible changes in your skin by solving problems of excess oil production. Pineapple and papaya enzymes are used to lift dead skin cells and debris from pores. Included in this facial is Kate Somerville's clarifying Dermal Booster, designed to control oil production and fight bacteria. To calm irritated skin, a protein mask containing fruit acids and egg proteins is applied, while a relaxing shoulder massage is performed. The results include refined pores and smooth, balanced skin.
60 Minutes - 160 USD
60 Minutes
USD 160
Call 1 (561) 533-3715
Dermal Quench
This is Kate Somerville's ultimate moisturizing treatment. Oxygen, vitamins and hyaluronic acid combine under hyperbaric pressure to deliver unparalleled hydration and age-defying results. Delightfully relaxing and nurturing, this treatment instantly brings healthier, younger and plumper skin. It is an ideal treatment to prepare for a special event, to relieve jet lag or for whenever you want a healthful glow.
60 Minutes - 240 USD
60 Minutes
USD 240
Call 1 (561) 533-3715
DermaLucent phototherapy
This Kate Somerville treatment uses the healing power of light by incorporating exposure to a special LED device. Several studies show that low-light therapy increases collagen production, helps to even pigmentation and targets fine lines and wrinkles. This treatment is individually customized. Results are noticeable after one treatment and can last up to three months. For optimal results, a series of eight treatments is recommended, once or twice per week.
60 Minutes - 180 USD
60 Minutes
USD 180
Call 1 (561) 533-3715
Yon-Ka for Men skin grooming
Gentlemen's Skin Fitness Facial
A made-to-measure deep cleansing, detoxifying and corrective grooming facial, this treatment is for the outdoor sportsman, city skins or any man suffering from breakouts. Recommended for imbalanced, stressed and congested skin, it helps tighten pores, even tone, and hydrate the skin.
50 Minutes - 150 USD
50 Minutes
USD 150
Call 1 (561) 533-3715
Gentlemen's Age Defence Facial
This highly effective facial targets fine lines, wrinkles and dryness. Active and results-driven products tighten and firm the skin to give a more youthful appearance.
50 Minutes - 150 USD
50 Minutes
USD 150
Call 1 (561) 533-3715
Gentlemen's Hot Shave
For the ultimate shaving experinece, this exclusive grooming treatment offers an ultrasmooth shave while leaving skin feeling protected and hydrated. The treatment begins with an aromatic warm compress followed by a rich lathering cleanse and shave. A regenerating facial mask is applied to rejuvenate and purify the skin, and the treatment ends with aromatic essences that help boost your skin and mood.
30 Minutes - 45 USD
30 Minutes
USD 45
Call 1 (561) 533-3715
Facial Enhancements
Add any of the following enhancements to your facial treatment. Please let your therapist know at the start of your service if you wish to add an enhancement.
Brightening eyelift
This eye pack will work to restore tone and elasticity and help to minimize dark circles, puffiness and fine lines, all while regenerating and oxygenating the skin.
45 USD
Neck and décolletage firming
Mature or sun-damaged skin will be remineralized and rehydrated as this treatment lifts and firms the neck and chest area, all while brightening and oxygenating the skin.
45 USD
Lip Treatment
Get softer, more voluptuous lips with a lumping and hydrating treatment.
25 USD
Collagen Eye Treatment
A collagen-infused gel lifts tired eyes and reduces fine lines.
30 USD
Collagen Face Treatment
Get visible results with this rich, collagen-infused mask.
50 USD
Oxygen Blast
This cooling oxygen spray infuses the skin with micellized vitamins and minerals.

50 USD
Microcurrent Lifting
Add the firming, lifting and tightening effects of NuFace to any facial.
50 USD
Deep Enzymatic Exfoliant
Kate Somerville's papaya and pineapple enzyme combination clarifies the skin.
50 USD
Glycolic or Lactic Peel
Choose Kate Somerville's Lactic Peel or Glycolic Peel for clear, fresh skin.
50 USD
Lava Gel Hand Treatment
Cosily warm and hydrating, this self-heating bubbling gel infuses dry skin with soy serum, beeswax and shea butter.
25 USD
Lava Gel Foot Treatment
Transform dry skin and soften heels with this heated soy serum, beeswax and shea butter treatment.
25 USD
Lava Gel Hand & Foot Treatment
Try both of our heated lava gel treatments for dewy results.
45 USD
USD 25 - 50
Call 1 (561) 533-3715
Note: Prices and treatments are subject to change without notice.