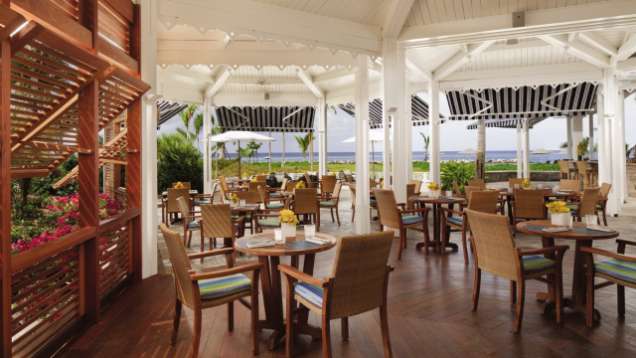 Note: Cabana is closed for renovations for lunch and dinner from October 16 to 19, 2014. Neve will be open for lunch during these dates.
Specialties
Cabana offers a wide variety of culinary delights under the headings Share It, Toss It and Fire It, highlighting delicious appetizers to share, salads and wood-fired pizza along with a great selection of delicious burgers and sandwiches. A must on the lunch menu are the ahi tuna tacos served with wasabi mayo and sesame seeds. For dinner, mix it up with a mouthwatering fresh grilled lobster or beef brisket straight from the Chef's BBQ.
hours
Lunch
12:00 noon – 3:45 pm
Light Fare
3:45 pm – 6:00 pm
Dinner
6:00 pm – 10:00 pm (Monday, Tuesday, Thursday, Friday, Saturday)

Please note: Hours of operation may vary seasonally. Contact the Resort for further details.
Cabana's location near the beach and between two pool areas makes it a popular daytime destination for sunbathers and swimmers. The restaurant includes a sit-down bar.
Quick Reference
Location
Near the pools and the beach

Outdoor seating
130, plus 14 at the bar
Attire
Beach casual
Reservations