Venture Now – Activities Package
Experience a different activity each day of your stay.
Destination
Directions & Maps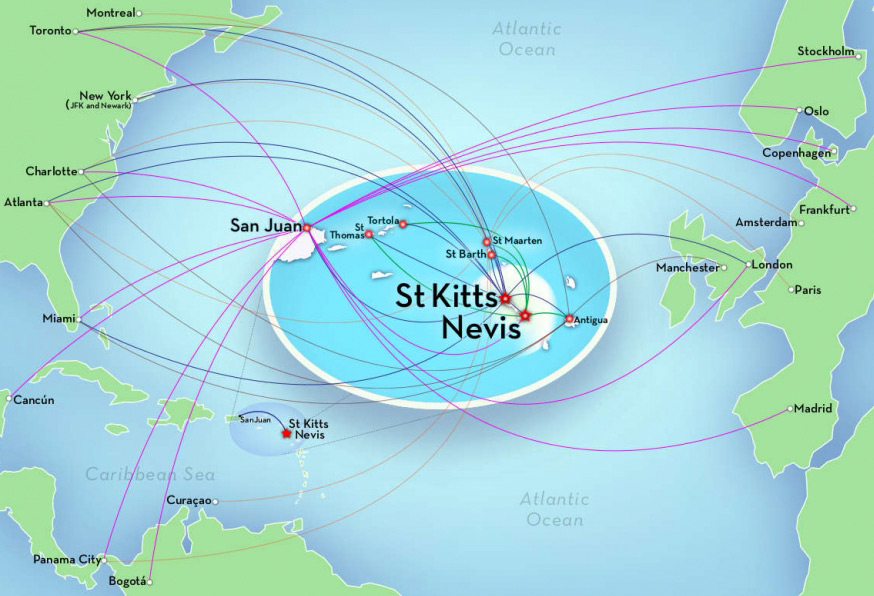 TRAVELING TO NEVIS VIA St. Kitts – Robert L. Bradshaw International Airport
Most guests travelling to Nevis arrive through Robert L. Bradshaw International Airport (SKB) on St. Kitts.
FROM THE UNITED STATES
American Airlines operates with the most frequency to SKB. There are direct non-stop flights from John F. Kennedy International Airport (JFK) in New York City on Saturdays with return non-stop flights, departing from St. Kitts on Sundays.
American Airlines offers daily non-stop flights to St. Kitts from Miami International Airport (MIA) and daily return flights from SKB to MIA.

American Airlines operates a seasonal, weekly non-stop flight from Charlotte Douglas International Airport (CLT) on Saturdays, returning also on Saturdays.

Delta operates seasonal weekly Saturday flights from Hartsfield-Jackson Atlanta International Airport (ATL) in Atlanta, GA, returning also on Saturdays.
Delta Air Lines is offering a second weekly, round-trip flight on Wednesdays during the 2016-17 Holiday Season, operating December 21 and 28, 2016, and January 4, 2017.
United Airlines offers seasonal daily non-stop flights to St. Kitts from Newark International Airport (EWR) in Newark, NJ, returning also on Saturdays.
FROM CANADA
Air Canada operates non-stop flights on Saturdays from Toronto Pearson International Airport (YYZ), returning also on Saturdays.
FROM THE UK AND EUROPE
Direct flights from London Gatwick Airport (LGW) are available on Wednesdays and Saturdays with British Airways, returning the same day. European guests can also connect through Sint Maarten/St. Martin on Winair seven days a week.
From and To San Juan, Puerto Rico
Tradewind Aviation provides flights from San Juan and Puerto Rico to Nevis in their modern, Pilatus PC-12 and Grand Caravan aircrafts. Tradewind passengers may elect VIP service in San Juan for a direct escort from their airline arrival to their departing Tradewind flight. For booking information visit Tradewind.

Seaborne Airlines provides daily flights between San Juan and Nevis. Flights are either direct to Nevis or land in St. Kitts, and after a short layover, continue to Nevis. Seaborne operates a 34-seater Saab Aircraft. Seaborne has a code-share agreement with American Airlines and interline agreements with Jet Blue, making the connection in San Juan seamless. For booking information visit the relevant airlines' website or visit Seaborne Airlines. This itinerary can be booked directly through your travel professional, the airline's websites, or any major online travel agency.

From and To St. Maarten/St. Martin
Winair provides direct flights five days per week between St. Maarten/St. Martin and Nevis and connecting flights from St. Maarten to Nevis with a short stop-over in St. Kitts twice a week. Winair has partnership agreements with major US carriers and Interline agreements with several European carriers such as KLM, Air France, Virgin Airlines and British Airways as well as Latin America's Copa.
INTER-ISLAND AIR OPTIONS
There are several regional airlines providing transportation from nearby locations. LIAT provides inter-island travel from Nevis to Anguilla, Antigua and St. Thomas. Caribbean Helicopters (CHL), in partnership with LIAT, offers flights between Nevis and Antigua, and Tradewind Aviation has unveiled new flights between Nevis and St. Barths.
CURRENT OFFERS: INTER-ISLAND DAY TRIP GUESTS
In 2015, Tradewind Aviation has unveiled new flights between Nevis and St. Barths. For guests who choose to travel to Nevis from St. Barths for a day excursion, Four Seasons Resort Nevis has created a variety of offers for Golf, Spa and Resort Access.
Private Jet Services
Chartering a private jet to Nevis with one of our preferred third-party private jet companies is a flexible, convenient option for groups. Group flights provide in-flight enhancements such as customised menus, company branding, on-board entertainment or guest speakers, and allow passengers to avoid additional fees, stops, ticketing and other restrictions. Private jets arrive and depart from SKB, which features a new Private Terminal with fast-tracking service for groups. For more information, please contact our Concierge.
OUR PREFERRED PRIVATE JET PARTNERS
Prive Jets provides private charter service for flights to and from St. Kitts and Nevis with access to more than 5,000 private jets worldwide and a choice of more than 40 types of airplane.

Air Planning provides air travel solutions to Nevis, for small and larger groups, up to 300 passengers

PJS provides air charter service, with configurations accommodating 14 to 400 passengers, from the US and Canada to St. Kitts, as well as direct access to Nevis via San Juan.
When you or your group arrives in St. Kitts, members of the Four Seasons Front Office Team will ensure your trip to Nevis is pre-arranged. Round-trip transfer fees are USD 150 per adult and USD 75 per child ages 6 to 11 (children ages 5 and under receive complimentary transfers).

When you exit customs, our friendly airport greeters will be there to meet you. Luggage assistance is also available.

From the airport, there is a 10-minute drive to Port Zante, the departure point for the Four Seasons luxury launch.

During the 40-minute boat trip to Nevis, enjoy the striking mountain and sea views, as well as complimentary Nevisian Rum Punch, local beer or a selection of non-alcoholic beverages.

Contact our Concierge or reservations department to arrange airport transportation prior to arrival.
After you're quickly processed through immigration, customs and baggage claim, Four Seasons staff will meet you in the reception area. Your pre-arranged air-conditioned transportation will be waiting to taxi you to the Resort, a scenic 10-minute (5 miles/8 kilometres) drive away.

View directions for your mobile device. (Note: Google Maps directions may differ from the Resort's suggested route.)

Contact our reservations department to arrange transportation prior to your arrival.
LIMOUSINE SERVICE
Taxi service is available. Transfer fees will be applied to guest's account.
Quick Reference
View directions to the Hotel from:
Time and distance to city centre and shopping
Charlestown: 5 minutes / 3 kilometres / 2 miles

Taxi service
The Resort provides taxi service to any destination on Nevis and charges are billed to guests accordingly.