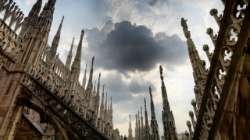 A Walking Tour: Art and Architecture in Milan
From iconic Gothic cathedrals to ornate palaces and theatres, the city's architectural wonders can be explored on a single scenic stroll.
Destination
Couple's Itinerary
Let Four Seasons Hotel Milano help you plan an unforgettable getaway for two. Enjoy having the city's most exclusive stores just steps from the lobby, experience Italy's most renowned restaurants and take your time exploring all that Milano has to offer with the all-door-opening hand of our dedicated Concierge.
This is a sample itinerary. To have an itinerary customised to suit your unique interest, please call or visit the Concierge, who would be happy to help you organize your trip.

Arrival
Upon your arrival, special seasonal amenities await. A bottle of Prosecco will be sparkling and nicely cooled, ready to be enjoyed with an exquisite selection of canapés or perhaps a platter of chocolate-dipped strawberries.

Day 1 – Get out of town, for now
Visit Lake Como for exquisite landscape and romantic moments worthy of the movies.
Day
Start your first day with breakfast in bed ordered through In-Room Dining – the epitome of elegance.

Get your things together and head out to Como in your private car, arranged through the Concierge.

Ask your driver to drop you off at the pier and meet the skipper of your private charter boat.

As your boat wanders throughout the lake, cozy up and snuggle with your loved one.

Hop off at one or many of the romantic little villages along the shore.

Lake Como is the playground of Italian and international celebrities, so you'll likely see some of them relaxing at their lakeside villas or undocking their boats.

Stop to visit the historic and sophisticated lakeside town of Bellagio, where you can soak up the midday sun while sipping on a pleasant aperitivo.

Explore Bellagio's refined gardens and decades-old traditional villas before returning to your waiting boat.

Your skipper knows just where to take you for lunch – the Villa d'Este hotel is truly one of a kind.

In the late afternoon, return to Como where your driver awaits, ready to bring you back to the Hotel.
Evening
Back at the Hotel, refresh yourself in your suite before a pre-dinner cocktail.

Sip on a Franciacorta Spumante in what used to be a 15th century convent, more recently converted into our intimate and comfortable living room.

Allow the Concierge to recommend an elegant restaurant for dinner and have them reserve the best seats in the house.

After dinner, enjoy a performance of the ballet or opera at La Scala.

Let yourself be impressed by the sophisticated classic interiors and embrace this traditional form of art.



Day 2 – Visit the fashion district
In the heart of the Quadrilatero della Moda, the Four Seasons Hotel Milano is the perfect starting point for a one-of-a-kind retail experience.
Day
Wake up start your day with a delicious breakfast at La Veranda.

Surprise your loved one with a personal shopper – our Concierge will set you up with the perfect person with all the right connections, allowing for the perfect shopping day.

Prepare to be dazzled by an expert's advice on fashion and make sure you are open-minded as you marvel at everything the couture houses have to offer.

Do not worry about carrying your purchases; leave them in the store and they will be swiftly carried to your room and folded or hanged in your walk-in closet.

Feel free to ask that your newly purchased designer pieces be ironed and ready to wear.
Evening
In the early evening, walk hand-in-hand to a hip bar in sophisticated Milan and sip on a Martini or Bellini while sampling fresh aperitivos.

Take advantage of some of the trendiest people-watching there is and soak up the unique easy mood of Milanese society.

Stay in the area for dinner. Ask the concierge to make reservations for you, and they'll make sure you have the best seat in the house.



Day 3 – Cultural landmarks not to be missed
Take advantage of our central location and go for a tour of the cultural landmarks of old Milan.
Day
Linger in bed and calmly enjoy breakfast in your room, ordered from In-Room Dining.

After choosing which new piece of Italian fashion to wear, gather your things and head downstairs with your partner to embark on an exciting day.

Make your first stop at the Duomo, where you and your loved one will marvel at the beautiful gothic architecture.

For breath-taking views, climb all the way to the top.

Next, visit Santa Marie delle Grazie, which houses Da Vinci's famous Last Supper.

Around lunchtime, visit one of the city's many street markets and pick up some delicacies.

After you've eaten, wander through the market to browse trinkets, food products and antiques.

Impress your partner by buying them a bouquet of San Remo blossoms – the most exclusive in Italy – from one of the vendors.

You're in the city of design and fashion, so be sure not to miss its multiple furniture and interior design stores, which showcase avant-garde and innovative pieces.
Evening
Enjoy romantic dinner at La Veranda and enjoy each others' company on your last night in Milan.