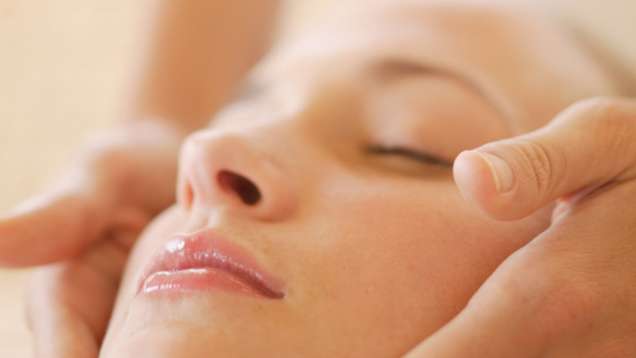 Ananda Facial Experience
Meaning "divine bliss" in Sanskrit, this facial uses Marma massage and light techniques to open the energy centres of the face. You will enjoy this facial as it works with the body's blissful higher energy to induce feelings of peace and give the skin a beautiful glow. A truly healing and holistic facial.
60 minutes – Starting from 960 MAD
Detoxifying Facial
This deep-cleansing facial promises to clarify and detoxify your skin. Beginning with an exfoliation to remove dead cells, the treatment then utilizes ozone vapour to open pores in preparation for extractions. Following a cooling mask, the end result is that your skin is calm and thoroughly rejuvenated.
75 Minutes – Starting from 1,280 MAD
Awakening O2
If you are a big city-goer and frequent flyer, you will benefit greatly from this treatment. The combination of pure water and oxygen to the skin will re-energize natural cellular functions and eliminates toxins, by injecting the complexion with a natural glow.
75 Minutes – Starting from 1,280 MAD
Vitamin C
Energize and feed your skin with a burst of 100% pure vitamin C. This facial treats sun-damaged areas and helps fight the signs of premature ageing. Your skin will improve its overall appearance, enjoying the stimulating of collagen production in order to renew your complexion's firmness and vitality.
75 Minutes – Starting from 1,280 MAD
Skin Recovery
This powerful facial combines repairing ingredients to improve dilated capillaries, skin congestion and redness. It softens the skin while treating hypersensitivity and exposure to damaging UV rays. A complete treatment to calm, soothe and restore the harmony of your complexion.
75 Minutes – Starting from 1,280 MAD
Casanova for Men
Specifically designed for male skin, this treatment fights the effects of negative stress, treating under-eye circles and dull, lifeless skin. Combining cleansing, balancing and moisturizing products with deep massagetechniques, the treatment energizes and restores your skin.
75 Minutes – Starting from 1,280 MAD
The Age Recovery Cure
The ultimate anti-ageing "beauty cure" has a lifting and firming effect that soothes the signs of dehydration, while yoga facial massage and Reiki healing techniques repair cell damage, leaving your skin looking and feeling refreshed.
90 Minutes – Starting from 1,440 MAD
Note: Prices and treatments are subject to change without notice. Treatments are available in-room for an additional 500 MAD. We suggest that you arrive 20 minutes prior to your appointment time in order to enjoy our facilities, including steam rooms, saunas, the relaxation rooms and gardens with complimentary refreshments. Should you wish to cancel or reschedule, please advise us at least four (4) hours prior to your appointment time in order to avoid a 100% cancellation fee.