Destination
Beaches on Lanai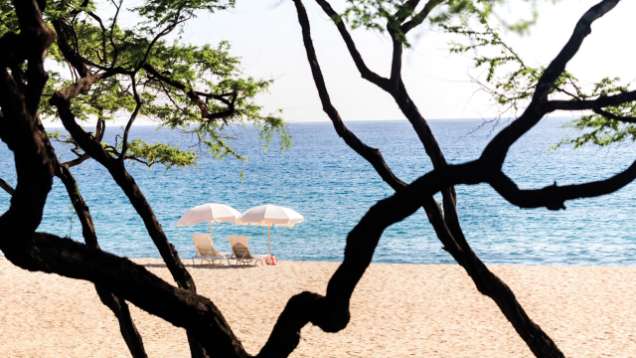 Explore the many beaches of Lanai. The waters of Hulopoe Bay are a protected marine preserve where exceptionally clear waters and beautiful, virtually undisturbed coral reefs offer pristine spots for snorkelling and diving. Spinner dolphins and colourful reef fish are frequently seen close to the shoreline, and humpback whales often make an appearance during the winter months. Sink your toes into white sand on a secluded beach accessible only by 4 x 4, comb the shores of Kaiolohia for exotic treasures, or learn to surf in the shallow, inviting waters of Lopa Beach.

Ocean Activities
Hulopoe Beach

At the foot of Four Seasons Resort Lanai at Manele Bay is Hulopoe Beach. This idyllic white-sand beach with picnic facilities, shady palms and gentle waves is a perfect spot for swimming, snorkelling, diving and splashing. In the winter months, it's not uncommon to see spinner dolphins and humpback whales. The waters offshore are a protected marine preserve, with snorkelling and diving spots that are among the best in Hawaii. Four Seasons staff offer beach services – including complimentary use of snorkelling equipment (including prescription masks), lounge chairs and towels – making your visit to Hulopoe Bay worry-free.
Kaiolohia Beach (Shipwreck Beach)

Fronting the ruins of an old lighthouse, Kaiolohia (meaning "rough seas") is also known as Shipwreck Beach. The area's numerous coral reefs have wrecked many ships, but the one you'll see here, a Liberty Ship from WWII, was sunk deliberately on the reef. Shipwreck Beach is the island's favourite place for beachcombers looking for exotic shells, beach glass and driftwood.



Shipwreck Beach is 8 miles (13 kilometres) long, so there's plenty of room for a picnic, sunbathing or exploring and beachcombing. Shipwreck Beach sits on Lanai's northeast coast, and is best reached by 4x4 excursion.

Driving time to the beach is 45 minutes.

Polihua Beach

Stretching 2 miles (3.2 kilometres), this white-sand beach is very private, and a favourite of guests wanting an absolute getaway. Not a beach for swimming as the currents here are very strong, Polihua Beach is great for taking in the sun, enjoying a picnic or indulging in a long afternoon nap. Located on the northern side of the island, Polihua Beach is only accessible by 4x4 excursion.


Driving time to the beach is 90 minutes.

Kahalepalaoa

On the southeast coast of Lanai, this secluded beach – whose Hawaiian name means "House of the Whale Ivory" – once housed Club Lanai, a day excursion for visitors from Maui, 9 miles across the water. Coconut groves, silky white sand and Pohuehue (Hawaiian morning glory) set the scene for picnics, beachcombing and snorkelling.


Accessibly only by 4x4; driving time to beach is 60 minutes; check road and weather conditions.