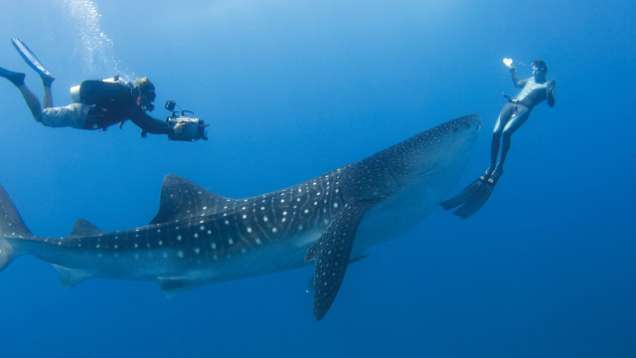 Seasonal highlights
The Republic of Maldives is made up of a double string of 1,190 coral islands to the southwest of Sri Lanka, in the Indian Ocean. Stretching north to a point just south of the equator, the archipelago is 130 kilometres (81 miles) wide at its widest point and 820 kilometres (510 miles) long. It is the flattest land in the world, with the highest natural point less than 2.4 metres (8 feet) above sea level.
Grouped into 26 atolls – ring-shaped coral formations, which provide a natural defence against wind and wave, enclosing a lagoon – the Maldives covers a total area of 859,000 square kilometres (331,661 square miles), only 1 of which is land. Not surprisingly, this aquatic nation is considered one of the top 10 diving spots in the world. With only 200 inhabited islands and an additional 98 islands developed exclusively as tourist resorts, tourism is the dominant support for the economy.
Malé, the capital of the Republic of Maldives, is an island 2 kilometres (1.2 miles) long and 1 kilometre (0.6 mile) wide. Malé is clean and quaint, with markets, mosques and a maze of small streets that approximately 103,000 people call home.
General information
January–December
Guests can see Napoleon wrasse, reef fish and turtles while diving and snorkelling.
February–March
Seas are generally calm with a glass-like surface, providing excellent opportunities for a variety of water sports, including wakeboarding and waterskiing.

Guests can see coral spawning during night dives, with the greatest display in late March.


May–October
After just a short 20-minute speedboat ride from the Resort, guests can see mass gatherings of manta rays and perhaps even encounter a whale shark at renowned pelagic hotspots close to the Resort, such as Hanifaru Bay and Bathalaa.


November–March
This is the season to see sharks, eagle rays and dolphins during dives.

The Maldives is on the migration path of dolphins and some of the world's largest whales, including sperm, false killer and blue whales. Limited sightings of these gentle giants are possible during dives.
Landaa Giraavaru is left as close to its natural state as Resort operations permit. As such, the island's wildlife may on occasion extend to a few mosquitoes (usually after the rains) as well as seasonal drifts of oceanic plankton, which can cause minor irritation to exposed skin. During certain periods, contact with seasonal caterpillars can trigger short-lived dermatological symptoms. For more information or in the event of contact with mosquitoes, plankton or caterpillars, please contact the Resort Clinic.
Whether you need to know local public holidays or highlights through the seasons, we hope you will find the facts gathered below useful tools for your travel planning. Please feel free to contact us if we can assist you further.

Stay Longer – Fourth Night Free
Receive a complimentary fourth night with every three consecutive paid nights when you...
Quick Reference
Time zone
GMT +5 hours in Malé
GMT +6 hours at Four Seasons Resort Maldives at Landaa Giraavaru
Language(s) spoken
Dhivehi, a language spoken only in Maldives, is as exotic as it sounds. With a strong Arabic influence, it has its own script. Since the 1960s, English has become widely understood, spoken and written by locals.
Electrical system
Local voltage is 220 to 240 volts AC. Adapters are available in all rooms, and transformers are available through Housekeeping.
Shopping hours
The Resort Shop is open daily from 9:00 am to 10:00 pm.
Working hours
Sunday to Thursday, 9:00 am to 5:00 pm in Malé, the capital city