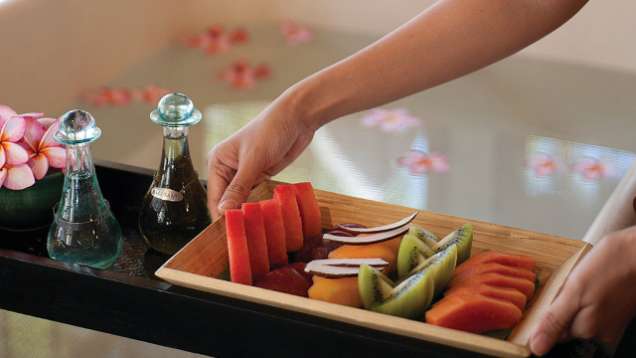 Sink into the restorative bliss of an aromatherapy bath, prepared by your very own Bath Butler in the comfort of your guest room, and discover the synergistic benefits of warm water and pure essential oils. Whether enjoyed as a leisurely morning or afternoon soak or a romantic after-dinner indulgence, bath rituals are available to prolong your spa experience at any prearranged time between 10:00 am and 10:00 pm.
Bedtime bliss
Realign your natural sleep pattern with this calming, restful bath – the ideal bedtime relaxation for tense or restless souls. This bath is enjoyed in a soothing candlelit atmosphere and accompanied by poached pears, chamomile tea and biscotti.
Iced sun soother
Ideal for sunburned skin, this "icy-going" bath is as welcome as a summer breeze, soothing skin and stimulating the body's bioenergy cycles. Recuperate and cool down after a full day of sunshine with a glass of freshly made lemonade and this gentle ritual.
Tropical aqua garden
Sink into the scents of the tropics and reconnect with your inner power in your very own aqua hortus (water garden). Accompanied by a fresh coconut drink, a fruit platter and a ylang-ylang-scented face towel, this vibrant soak sets the mood for tropical romance.
Biorhythm recharge
Improve circulation and combat jet lag with this earthy and balancing bath. With ZEAL massage oil and a mint herbal poultice for a self-shoulder rub, this bath is ideal after a massage, or on alternate days to keep skin youthful. The ritual includes fresh multivitamin juice and sparkling water.
Sodashi purifying mud
Offering the deep-cleansing properties of French green clay, this warm, detoxifying bath draws out impurities while refreshing and healing the skin. Apply the face mask and cucumber eye pads, then sink back with the accompanying cucumber and celery virgin mojito for complete invigoration.
Milk and honey
No ordinary bathing experience, this warm, fragrant combination envelops the body in two of nature's oldest beauty elixirs. Follow the candle-lit trail, apply the honey and oatmeal face mask and then sink into the sweet cinnamon-scented water to rediscover sublimely soft skin. A sweet lassi drink and homemade cookies provide a comforting accompaniment.
Love
Designed to balance the heart chakra, this sensual, candle-lit ritual evokes a deep sense of comfort, inviting you to indulge all of your senses. Warm rose-scented face towels, flower-scented loofahs, rose massage oil, champagne and chocolate-dipped strawberries round out this truly romantic experience, perfect for two.
Bride's love
Specially formulated for belles and brides-to-be, this bath includes a sweet and bubbly floral blend that will enrapture body and mind with the intoxicating aura of love. Flower-scented exfoliating loofah soap, a frangipani- and vanilla-scented face towel, a mimosa drink and fresh strawberries make this ritual even sweeter.
Cleopatra's secret
Discover Cleopatra's secret to eternally youthful skin with this healing combination of milk and natural extracts. Soften dry and rough skin from head to toe with a pumpkin pulp and egg-white face mask, a honey and brown-sugar exfoliating scrub and an olive-oil hair mask, then sink into deep relaxation with a frankincense-scented face towel. During your soak, enjoy a selection of Egyptian delights and fresh carrot juice.
Dynamic detox cleanse
This refreshing, deep-cleansing bath features rose to open the pores, seaweed and arnica to cleanse and mint and rosemary to heal aches and strains. Excellent after a day of intense physical activity and to restore clarity to body and mind, this revitalizing soak is complemented by herbal loofah soap, a peppermint-scented face towel, a ginger root Lomi Lomi drink and vegetable crudités.
Temple calm
Relax with this rebalancing, calming soak, ideal for some much-needed "me time." Earthy sandalwood and cedar soothe the senses while cleansing the skin and balancing the spirit. Featuring a black-rice soap bar to purify and Sodashi's men's face mist to revitalize, this grounding treat is rounded off with and a glass of Hennessy cognac and the pleasure of a fine cigar.
Raspberry razzmatazz
During this colourful, juicy bath with natural mango and raspberry shower gel, white rose petals, warm water and fabulous foam, kids can sip on a raspberry pureé and fresh mango mocktail and breathe in the delicious fruity aromas.
Choco-loco
Crazy about chocolate? Soak in organic white chocolate shower gel, marshmallows and Hershey's syrup swirls. Sip on hot cocoa and snack on marshmallows and freshly baked chocolate-chip cookies. It's a cozy and comforting dream come true!
Please note: Prices and treatments are subject to change without notice. Prices will be subject to 23.2% combined taxes and services charges.