The third-largest Thai island, Koh Samui is part of an archipelago of more than 60 islands off Thailand's east coast. Just a 45-minute flight from Bangkok, the island's white sand, swaying coconut palms and calm waters help maintains its away-from-it-all charm.
Snorkel, dive, kayak, boat or just splash in the water—Koh Samui is the perfect location to experience the blue-green waters of the Gulf of Siam.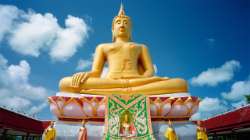 Big Buddha
Koh Samui's most famous landmark, this 15-metre relic was built in 1972 by locals to give visitors a place to pay respect to Buddha.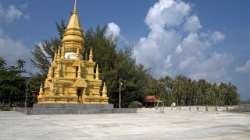 Laem Sor Pagoda
This ornately-designed pagoda is covered with countless, small yellow tiles that shimmer under the sun, making it appear golden, even from a distance.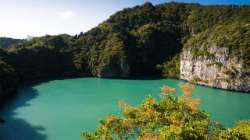 Angthong National Marine Park
Fully worth the boat ride, this protected reserve includes more than 40 islands with sheer limestone cliffs, virgin rainforests, white-sand beaches and offshore coral reefs.
Santiburi Samui Country Club
This par-72 course is lined with exotic palm trees, numerous creeks and natural waterfalls, creating an enchanting and tranquil haven.
Na Tian Butterfly Garden
Explore a kaleidoscope of colour provided by hundreds of spectacular butterflies.