SPA
Signatures of the Spa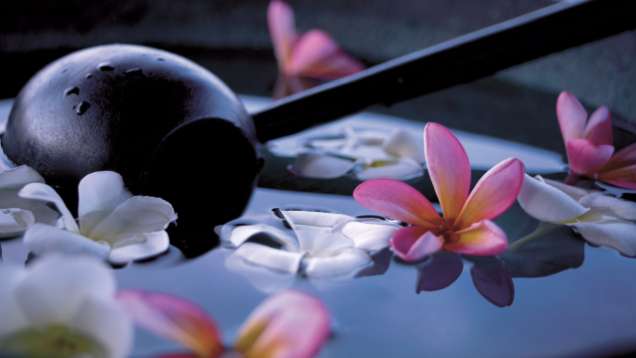 At the Spa at Four Seasons Resort Bali at Jimbaran Bay, our signature rituals are inspired by the various moods of water: cleansing, restoring and dreaming.
Marine Algae: Cleansing Waters
This deeply re-energizing and detoxifying full-body experience starts with an exfoliation using warmed Himalayan salt to provide the body with much-needed negative ions, restore its energy field and improve blood flow. A wrap with mineral-rich algae assists in the absorption of essential trace elements and minerals, promoting detoxification. After a soothing bath, the body is anointed using a traditional Balinese gayung – a vessel used to splash water infused with a blend of seaweed and herbs – to leave the skin hydrated and smooth. To conclude the ritual, a deeply cleansing and rejuvenating facial leaves the skin looking lustrous and glowing.

Biorhythm: Restoring Waters
The natural flow of the body's biorhythm is closely linked to the body's magnetic energy field. This treatment restores the body's natural biorhythm and deeply relaxes the nervous system. Both the energy scrub and mud wrap contain high levels of minerals in ion form, which, as they become warm, emit large amounts of negative ions, charging and restoring the bio-magnetic energy field. Next, a kundalini crystal healing back massage helps to balance and relax the nervous system. The treatment finishes with an ayurvedic marma massage for the face.

Mimpi Manis: Dreaming Waters
Sleep is the cornerstone of health, yet sleeplessness is an epidemic in the West. Mimpi Manis, meaning "sweet dreams," helps to inspire inner tranquillity, tension release and blissful sleep. First, a Vichy shower soothes the nervous system. Dreamtime music and water gently poured over your body relax you at the subtlest level. The treatment continues with ayurvedic marma-point massage and chakra healing – expertly focused to your specific needs – before concluding with a mimpi manis face massage.

Note: Prices and treatments are subject to change without notice. Prices are subject to 21% tax and service charge.