Function Rooms
Hualalai Ballroom A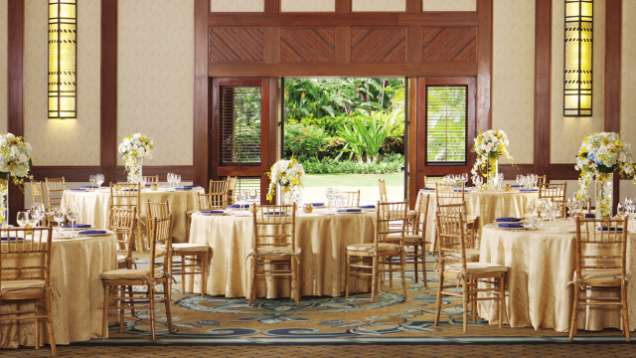 Hualalai Ballroom A opens to the Garden Lawn, via a trellis-covered terrace, and also to the large pre-function foyer.
Why You'll Love It
Décor
Rich, dark woods with contrast earth-tone walls
Floor coverings feature a lively pattern
Ambience
Room opens to the Garden Lawn and the large pre-function foyer.
Trellis-covered terraces leading to the Garden Lawn
Leading Edge Amenities
Built-in screens and drape kits
Video cameras, video projectors, video players
Microphones, mixers, amplifiers
Room Details
Seating
Classroom
Hollow Square
U-shape
Theatre
Reception
Banquet rounds
Classroom with rear screen
Banquet with rear screen

100
72
57
200
300
180
100
120

Occupancy
Up to 300 guests
Room Features
Breakout rooms available with this room
Pre-function space available with this room

Location
A ground-floor function room with outdoor access
View
Garden Lawn
Size
Area
Dimensions
Height

284 m2 (3,055 sq.ft.)
19.8 x 14.3 m (65 x 47 ft.)
5.4 m (17.6 ft.)

Note: Actual clearance height is 17 feet (5.2 metres).