Chinese Wellness Ritual
An exquisite Asian therapy that takes place on a heated marble table within the steam room.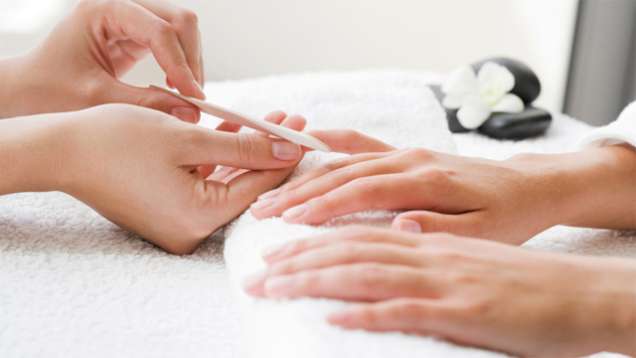 This collection of essential beauty and grooming treatments has been designed to ensure that you always look and feel your best.
Essential manicure
Alongside professional nail and cuticle care, this deluxe manicure packs in a relaxing hand soak, scrub and mask, as well as a delightful hand and arm massage. Choose the polish of your choice to enhance your rejuvenated hands.

Weekday: 60 minutes – HKD 500
Weekend: 60 minutes – HKD 560
Essential pedicure
Instantly soothing, this therapy begins with a foot soak and continues with a restorative scrub and skin-softening mask. After the essential nail and cuticle treatment, your therapist will perform an energizing massage on your feet and calves, then finish the ritual with an application of polish.

Weekday: 60 minutes – HKD 600
Weekend: 60 minutes – HKD 660
Oriental head ritual
This intensely reviving therapy is renowned for helping to treat insomnia. Using energy-releasing pressure-point work and smooth strokes influenced by Chinese reflexology, your therapist works on your face and scalp, releasing blocked energy throughout the body, with wonderfully relaxing results.

Weekday: 60 minutes – HKD 1,100
Weekend: 60 minutes – HKD 1,200
Sports manicure
Ideal for men, this hand therapy includes a tension-easing hand massage designed to restore energy and flexibility. Our seasonal products are then used to cleanse the hands and arms, your nails and cuticles are tidied and shaped, and finally your nails are buffed for a healthy, professional look.

Weekday: 60 minutes – HKD 400
Weekend: 60 minutes – HKD 460
Sports pedicure
After a relaxing soak, your feet are treated to an invigorating, skin-smoothing scrub and an energizing massage that includes your calves. Your nails and cuticles are then buffed to perfection.

Weekday: 60 minutes – HKD 500
Weekend: 60 minutes – HKD 560
Reflexology
This traditional Chinese healing philosophy, which can be applied to the hands and the feet, stimulates the nerve endings that are said to correspond to various organs and parts of the body, releasing energy blockages and initiating self-healing, resulting in higher energy levels and a simultaneous feeling of deep relaxation.

Weekday: 60 minutes – HKD 1,100
Weekend: 60 minutes – HKD 1,200
Waxing
The finest waxes and professional techniques are used to remove unwanted hair.

Half leg
Weekday: HKD 350; Weekend: HKD 500
Full leg
Weekday: HKD 550; Weekend: HKD 750
Underarm
Weekday: HKD 250; Weekend: HKD 420
Half arm
Weekday: HKD 320; Weekend: HKD 490
Full arm
Weekday: HKD 410; Weekend: HKD 580
Bikini
Weekday: HKD 280; Weekend: HKD 450
Bikini ultra
Weekday: HKD 500; Weekend HKD 750
Eyebrow/lip/chin
Weekday: HKD 270; Weekend HKD 440
Chest/back
Weekday: HKD 550; Weekend HKD 750
Cheek
Weekday: HKD 290; Weekend HKD 510
Note: Prices and treatments are subject to change without notice. Prices are subject to a 10% service charge and vary from weekday to weekend.