Chef Bio
Caprice Pastry Chef Marike van Beurden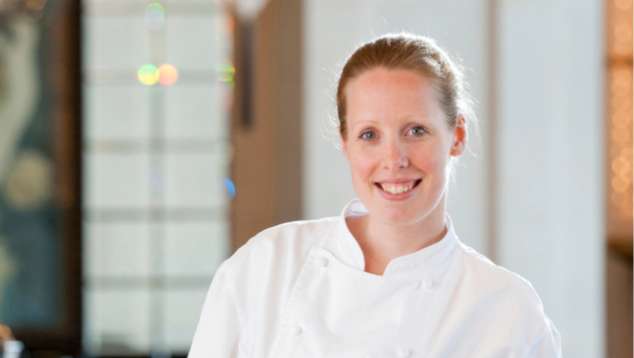 "The best art is culinary art because it reaches more than the sense of sight, you get to enjoy something that looks beautiful and then better still, to taste that beauty in all its textures and flavours."
Four Seasons Tenure: From 2004 to 2007: Le Cinq, Four Seasons Hotel George V Paris
Since 2010: Caprice, Four Seasons Hotel Hong Kong


Employment History: Maison Pic, Valence, France; Hotel du Castellet, Le Castellet, France; La Villa Madie, Cassis, France; Le Cinq, Four Seasons Hotel George V Paris, France; Sketch, London, UK; The Chocolate Line, Bruges, Belgium; Bakery René, Den Bosch, Netherlands


Birthplace: Boxtel, the Netherlands


Education: Ter Groene poorte, Bruges, Belgium; Middelbare Vakschool Wageningen, Netherlands; School voor Konsumptieve beroepen, Eindhoven, Netherlands


Languages Spoken: Dutch, English, French


A striking Dutch girl, Marike van Beurden joined Four Seasons Hotel Hong Kong in April 2010 as Pastry Chef at the acclaimed Caprice restaurant. Fresh from the banks of the Rhône, her tender age seems inconceivable with the work history she carries in her pocket - only upon witnessing the desserts she creates can it be realised as truth.


A dedicated pâtissier, van Beurden initially studied her art in the Netherlands with a focus on bakery and confectionary. She moved to Bruges to finesse her skills as a pastry chef and chocolatier, and after two years found herself at one of the trendiest addresses in London under the counselling of Pierre Gagnaire: Sketch. Before moving onto her next European destination in 2004, van Beurden added culinary competitions to her flourishing bow, coming out on top in the Dutch Pastry Award.
Moving on to work in the kitchens of Michelin-starred Le Cinq at Four Seasons Hotel George V, Paris, van Beurden continued to compete in the most coveted industry contests, regularly featuring amongst the winners and of particular note, achieving first place in both 2009 and 2010 at C3 Valrhona's Desserts for Restaurant Competition. She toured France working for La Villa Madie in Cassis under Enrico Bernardo's watch, onto Hotel du Castellet and finally to the famed Maison Pic with tutelage from the world's only female three-Michelin-starred Chef, Anne-Sophie Pic, and one of the men in the business she admires the most, Pastry Chef Phillipe Rigollot.


As she stands in the open-kitchen of Caprice, Hong Kong, van Beurden is a determined and skilled young woman. In Caprice style, she redresses her menu on a seasonal basis, taking her inspiration from travels and outdoor pursuits in Hong Kong. "I'm always thinking about the next season, about what produce I will be able to use and how to incorporate new flavours. I will aim for a maximum of four different tastes and textures, but the most important thing is to consider what our guests will like. I constantly pay attention to what are the most popular items on our menu and bear in mind guests' nationalities, as palates are very different for locals, expats and tourists."


Van Beurden works with a team of five and complements Caprice Chef de Cuisine Fabrice Vulin, who guides her but allows her complete creativity and authority for her division.


Clearly a winner when it comes to competition in her own field, van Beurden's sweet epilogues assist in making Caprice's dining experience an overall success.