At Four Seasons Hotel Hampshire near London, you are on the doorstep of one of the area's most sought-after restaurants, Seasons, which offers a private dining room for small gatherings. Enjoy fine spirits or wholesome bistro fare at Bar 1086. Meet for elegant afternoon tea in The Library. Pause for delicious spa cuisine after a workout at Café Santé. Or, from In-Room Dining, order a midnight feast or a gourmet picnic lunch to enjoy in the surrounding beauty of Dogmersfield Park. Special menus have also been created just for children.
We regret that dogs are not allowed in any areas serving food or beverages. This exclusion does not apply to guide dogs.
Rustic Country Fare
The Hotel's superb restaurant and bar offerings reflect our commitment to local produce and country elegance.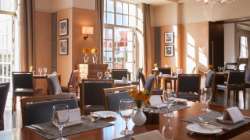 Seasons
The restaurant and Salon Privé, the adjacent semi-private dining room for up to 24, offer a rustic British bistro menu featuring home-style and Chef's signature
dishes, created using local produce and ingredients from the Hotel's
estate.
RESTAURANT TIMES
Open Daily Breakfast
7:00 am – 11:00 am
Sunday's Farmer's Market Lunch
12:30 pm – 3:30 pm
All Day Dining
2:00 am – 10:30 pm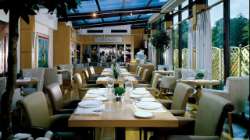 Café Santé
The Spa's Café Santé serves fresh, healthy salads, hot dishes made to order in a glasshouse setting overlooking The Spa and Hotel grounds.
HOURS
Sun, 11:00 am – 4:30 pm
Mon – Sat, 11:00 am – 6:00 pm