Until mid July an exciting enhancement programme will be taking place in our restaurant and bar areas, with a series of pop-up dining experiences available during this time. Our team is fully committed to minimising disruption to our guests and we thank you in advance for your patience. Please contact us with questions at + 44 (0) 125853000 or email us.
At Four Seasons Hotel Hampshire, enjoy the finest seasonal and regional produce in Café Sante, as well as in various pop-up dining experiences throughout our event spaces. Order a midnight feast or a gourmet picnic lunch from In-Room Dining to enjoy in the surrounding beauty of Dogmersfield Park. Special menus have also been created just for children.
We regret that dogs are not allowed in any areas serving food or beverages. This exclusion does not apply to guide dogs.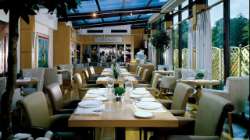 Café Santé
The Spa's Café Santé serves fresh, healthy salads, hot dishes made to order in a glasshouse setting overlooking The Spa and Hotel grounds.
HOURS

Breakfast 7:00 am – 11:00 am
Lunch 12:00 pm – 5:00 pm
Dinner 6:00 pm – 10:30 pm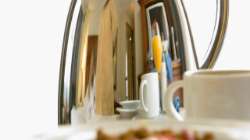 In-Room Dining
Pick from our extensive menu from the comfort and convenience of your suite 24 hours a day.