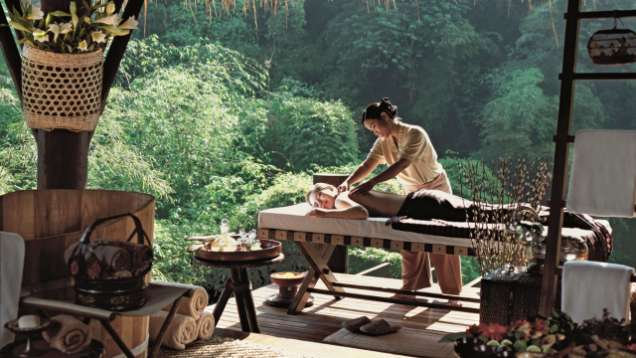 Mahout recovery treatment*
Enjoy this special Four Seasons Tented Camp treatment after your elephant adventure. Relax your sore muscles, as large poultices filled with camphor, lime and lemongrass are used to massage the body and are placed under the legs to release lactic acid and warm and comfort unyielding muscles. Meanwhile, your body is gently kneaded and restored with a curative Asian massage.
Location: Spa
Mekong meditation*
Allow your body and mind to unwind, through tender manipulations coupled with circular motions that restore balance to your body. Thai herbal oils release therapeutic properties into the skin to dissolve muscle tension while your mind drifts away.
Location: Spa, Tent
Doi tung rejuvenator*
Enjoy the taste of the Orient, as meridian channels and acupuncture points are awakened. Soothing aromatic oils combined with kneading and stretching leave the body completely relaxed and refreshed. Reflexology is also used, to assist in the release of energy blockages and toxins.
Location: Spa, Tent
Ruak ritual
Inspired by bamboo, long considered a symbol of longevity and strength in Asian cultures, the Spa's Ruak Ritual is a full-body massage using a combination of local herbal oils and smooth, natural bamboo sticks to target deep-seated muscle tension. The treatment begins with a foot bath using refreshing kaffir lime, grown right at Four Seasons Tented Camp Golden Triangle. A full-body massage follows, including traditional Thai techniques and herbal oils that allow the bamboo sticks to glide smoothly over the skin. The bamboo implements, all made from bamboo that grows wild at Four Seasons Tented Camp Golden Triangle, are hand-carved by Khun Uncle Bamboo, the elderly gentleman who makes the Camp's bamboo cups, cutlery and drinking straws.

Traditional Thai massage
According to Thai legend, this massage was created by Buddha's physician and practised in temples in the second and third centuries. By combining Oriental pressure point stimulation and stretching with gentle rocking to relieve muscle tension, it helps improve circulation and flexibility to invigorate the nervous system, resulting in a feeling of relaxation and overall well-being.
Location: Spa, Tent
Body Oils

Choose from one of these special body oils to complement your massage:

Energizing: a blend of kaffir lime, lemongrass and lavender
Benefits: Increases circulation, stimulates adrenal glands, soothes the body and mind, reduces cellulite, relieves stress and fatigue and combats itchiness.
Sensual: a blend of ylang-ylang and jasmine
Benefits: Stimulates the senses, improves mood, relaxes the mind and emotions, increases feminine energy and softens the skin.
Relaxing: a blend of tangerine and sandalwood
Benefits: An uplifting and grounding oil that induces relaxation, and gently stimulates the nervous system.


*A choice of oils is available for asterisked massages.
Prices and treatments are subject to change without notice. Prices are subject to 10% service charge and 7% VAT. The THB rate used by the Currency Converter is the international rate. Rates used within Thailand may vary.