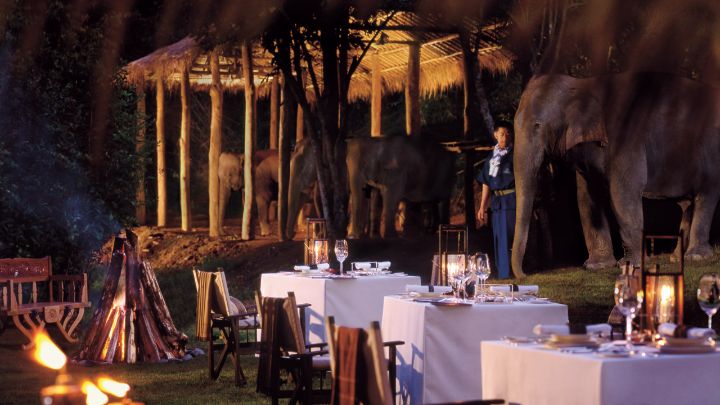 Our talented food and beverage team excels at creating memorable and customized meal experiences. Take a sumptuous picnic lunch on a jungle trek, learn how create authentic Thai cuisine or enjoy a personalized dining event, such as a multicourse dinner (complete with elephant onlookers) at Elephant Camp.
Personalized Dining and Events

Whether you're at the Tented Camp to celebrate a birthday, anniversary, honeymoon or other special occasion, or you're simply spending quality time with your loved ones, our personalized dining events are a wonderful way to create lasting memories. From a sunrise breakfast to an evening serenade with the elephants, a kanthok firepit dinner or a romantic dinner for two in our picturesque wine cellar, our food and beverage team can customize a magical experience you won't soon forget.




Choose from these personalized dining experiences:

Camp Peak Sunset Cocktails: THB 4,500
Traditional Kanthok Dinner: THB 7,000
Wine Pairing Dinner in Wine Cellar: THB 8,000
Camp Peak Breakfast: THB 10,000
Elephant Camp Dinner: THB 14,000
Camp Peak Cocktails & Dinner: THB 16,000

Prices are for one or two guests and are subject to tax and service charge.
Become a Thai Chef, Pisan Style

Interested in learning the secrets of creating delicious Thai cuisine? Let our chef teach you how to make three mouthwatering local dishes, then take your new-found culinary skills home and impress your friends and loved ones!


Time: Approximately 2–3 hours
Price: THB 10,000
Note: Prices are subject to tax and service charge.