The city's first hotel, and still the first choice of sophisticated travellers and world statesmen, has been a landmark on Lake Geneva since 1834. Now, as Four Seasons Hotel des Bergues, it blends a revitalized sense of history with comfort, relaxation and warm, genuine personal service.
May we help you plan your stay with us?
About
Four Seasons Hotel des Bergues Geneva
Local Time:
•
Local Temperature:
11°C / 52°F
33, Quai des Bergues,

1201

Geneva, Switzerland
Tel.

41 (22) 908 70 00

Fax.

41 (22) 908 74 00
Located in the heart of Geneva, with enchanting views of the lake, the Old Town or the courtyard, Four Seasons Hotel des Bergues Geneva has been the choice of seasoned travellers since 1834.
Learn more about our accommodations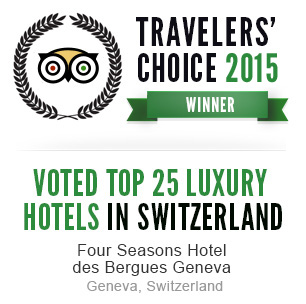 reviews at a glance
from

See all reviews
reviews at a glance
from

See all reviews
TripAdvisor

Twitter

Facebook

Room Rate
Our best available unrestricted rate.
Fitness facilities
Infinity-edge pool
Golf, hiking and skiing nearby
Spa facilities
Business Services
Multilingual Concierge
Children's amenities
Babysitting services
Bordered on three sides by France and within view of the snow-capped Alps, Geneva boasts a deep-rooted French influence and cosmopolitan flair. This city is a real cultural hotspot, offering art galleries, an opera house, gourmet restaurants and a vibrant nightlife.
Read More
Further Reading
Concierge Recommends
Our Chef Concierge suggests the best of the city – from dining and shopping to museums, chocolate and more.
Outdoor Activities in Any Season
Embrace nature's wonder: summer is the perfect time for spectacular hiking, while the colder months bring fantastic skiing on the nearby Alps.
Within Walking Distance
Four Seasons guests can explore Geneva like a local. Here are eight locations and experiences not to be missed.