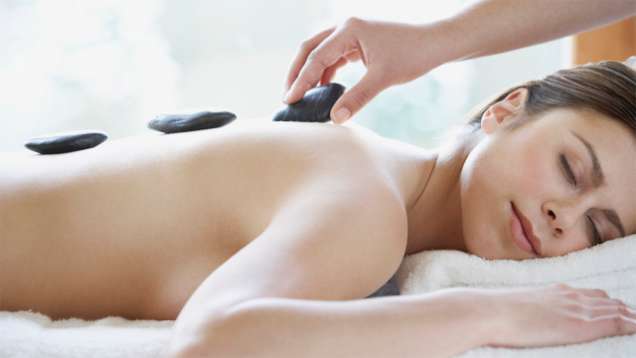 Highly skilled and intuitive, Four Seasons therapists are experts at helping you ease away muscular tension and alleviate stress. Choose from our wide variety of massage techniques and savour an experience of peace and nurturing care.
Four Seasons Signature Four Handed Massage
A choreographed rhythmic massage to create a deeply relaxing experience. Two therapists work in unison using nurturing long strokes to induce a deeply relaxed self-being.
50 Minutes
USD 250
Call 1 (303) 389-3020
Evergreen Massage
In Colorado, evergreen trees blanket our landscape--from lodgepole pine to blue spruce. Native Americans used parts of evergreen trees for medicinal
purposes--even as a source of Vitamin C. While also being antiseptic and anti-bacterial, evergreen oils are known for their anti-inflammatory properties, soothing pain from tired and sore muscles. Our evergreen massage starts with heated "energy healing sticks" that alleviate tension throughout the body. Evergreen oils are incorporated into a deep tissue massage, which is perfect for athletes, men and others who love deeper pressure.
50 - 80 Minutes
USD 150 - 225
Call 1 (303) 389-3020
Advanced therapeutic
Focusing on specific areas, our therapeutic massage uses deep pressure and a variety of targeted techniques to promote the recovery of injured and strained muscles, and also to increase flexibility and the range of limb motion. This massage is ideal after a vigorous exercise session, or for guests who are frequent massage recipients.
50 - 80 Minutes
USD 135 - 200
Call 1 (303) 389-3020
Deep Tissue
Deep-tissue massages are ideal for experienced massage clients who suffer from deep-seated tension. In 50 minutes, the therapist will focus on specific tension areas. In 90 minutes, enjoy a full-body massage using firm to deep pressure.

50 - 80 Minutes
USD 130 - 195
Call 1 (303) 389-3020
Rocky Mountain hot stone
A timeless classic, this massage is influenced by the traditions of our country's Native Americans. The ancient art includes the precise placement of smooth, heated river stones on the body. The healing elements of fire, water and earth bring profound relief to tight muscles, stressed emotions and weary spirits.
50 - 80 Minutes
USD 130 - 195
Call 1 (303) 389-3020
Balancing gemstone
In this luxurious relaxing and energy-balancing massage and body treatment, imbalances from altitude adjustment are gently and magically brought into alignment. The experience of organic aromas, crystal energy wands and the soothing effects of four distinctive gemstone-energised and herb-infused oils purify and naturally oxygenate tissues and soothe and enhance overall balance in your body and mind. The result is a calm sense of inner and outer well-being.
80 Minutes
USD 225
Call 1 (303) 389-3020
High-altitude, full-body revival
If you feel tired, heavy-headed or short of breath, this treatment will pick you up and leave you feeling completely revived. This specialised massage combines reflexology with a full-body massage using special oils designed to relieve symptoms of high-altitude adjustment. Organic sunflower oil infused with balsam fir, white pine, spruce, clary sage and frankincense oils aids in moisturising thirsty skin, purifying the body and naturally increasing oxygen levels to clear your mind.
80 Minutes
USD 200
Call 1 (303) 389-3020
5,280 relaxation
When situated exactly 1 mile (5,280 feet, or 1.6 kilometres) above sea level in Denver, it takes time for one's body to adjust to the altitude. This massage uses long strokes and medium pressure. Combined with a blend of gemstone Azurite oil infused with herbs, this massage naturally promotes deep relaxation and eases tension from the body and mind.
50 - 80 Minutes
USD 135 - 200
Call 1 (303) 389-3020
Mom-to-be
A light massage, specially created for expectant mothers. Recommended in the second and third trimesters, this session focuses on the comfort of the mother-to-be. Performed with you lying on your side, with pillowed support, the massage is designed to reduce stress, decrease swelling in the arms and legs, and relieve aches and pains in muscles and joints.
50 - 80 Minutes
USD 120 - 180
Call 1 (303) 389-3020
Hydrating Swedish
Using the healing scents and natural hydrating effects of organic shea butter, this full-body massage combines light to medium pressure and long gliding strokes to soothe sore muscles and improve circulation.
50 - 80 Minutes
USD 120 - 180
Call 1 (303) 389-3020
Reflexology
Dating back to as early as 2,500 BC, this deeply relaxing pressure point massage is based on the premise that each organ in the body corresponds to a specific point on the foot. Using specific thumb and finger pressure techniques causes physiological changes to take place in the body. The body's own healing potential is stimulated, with all energy flows restored to their natural pathways.
25 - 50 Minutes
USD 75 - 120
Call 1 (303) 389-3020
Nutrient restorative hair and scalp treatment
A steady stream of warm oil infused with wild-crafted herbs moves over your forehead in a specific pattern, touching energy points that induce deep relaxation, calming the mind and enlivening the scalp. The nutrient-rich oil is massaged into the scalp and hair, leaving it luxuriously moisturised. Finish the treatment with a gentle body polarity balancing. For best results, the oil may be left in the hair overnight.
50 Minutes
USD 140
Call 1 (303) 389-3020
Stress-relieving Neck and Back
Feel released from tension as we focus on the most stressed areas of your body – neck, back and shoulders – using a specifically formulated high-altitude massage oil. After a long week of working at your desk or a full day of outdoor activities, this is the perfect way to unwind and relieve stress.

25 - 50 Minutes
USD 75 - 120
Call 1 (303) 389-3020
Note: Prices and treatments are subject to change without notice.