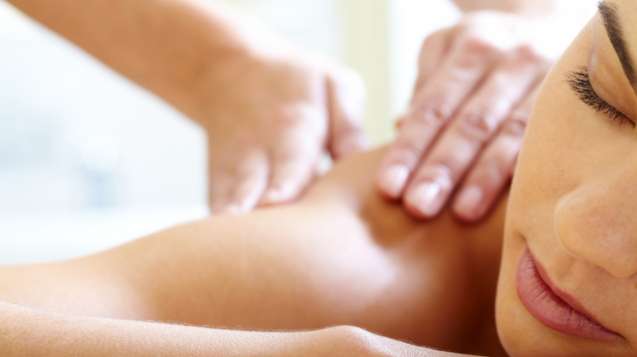 Gingerbread N' Butter Hot Stone Mani & Pedi
This holiday season, dip into a classic that leaves you warm all over. Your feet will be immersed in a rich whole milk and chicory root butter soak that softens and nourishes the skin. Next, a brown sugar and pecan-whiskey polish smooths calluses and leaves a glistening sheen to skin. Finally, you'll be drizzled and massaged with hot stones in a velvety rich, warm butter blend of emollient shea, cocoa and mango butters that melt into skin, leaving you instantly, irresistibly soft.
Mani – 50 minutes, USD 75
Pedi – 80 minutes, USD 115
Available December 1, 2014, to January 31, 2015.
Winter Warm-Up Wrap and Massage
Toast to a brief winter escape with this heavenly treatment that starts with a candy cane soak linen wrap that envelops your body in a cocoon of warmth, hydrating your parched winter skin. Next, enjoy a moisturizing marshmallow shea butter massage with antioxidant-rich olive fruit and grapeseed oils that will bring a glistening holiday glow to your skin and leave you with visions of sugarplums dancing in your head. Finally, enjoy a minty-fresh peppermint foot scrub that will remind your feet why it's the most wonderful time of the year.

Available December 1, 2014, to January 31, 2015.
Sweet Surrender Couples Massage
Ignite the spark and toast to romance with a chilled glass bubbly as they are escorted to a candlelit treatment room set for two. Side-by-side, love birds will melt with a head to toe pomegranate scented Las Colinas Custom Massage that alleviates any muscle stress and leaves skin feeling velvety smooth. The sweetness doesn't end there. As a part of the experience, guests depart with a sexy gift and a glass of bubbly.
Available February 1-28, 2015
Love Me Tender
Get ready for the ultimate in glowing radiance. First, your skin is prepped with a steaming antioxidant compress with Honey Magnolia sparkling soak, rich in grapeseed and olive fruit oils to relax your senses and awaken your skin cells. You'll be pampered with a creamy Coconut Milk and Green Tea cleanser and whipped into softness with a Shea Butter and Sugar micropolish or a micro-buffing Red Arizona Montmorillonite Clay and Desert Willowbark scrub to clear away bacteria, dead skin, and blemishes, clearing the way for either a velvety smooth, cooling active yogurt mask that gently tingles as pores are deep cleaned, tightened and skin is nourished with raw honey and oats or a rich Dark Chocolate and CoQ10 Enzyme mask chock full of vitamins and antioxidants, fighting free radical damage and leaving a smooth surface behind. Your skin is then fed with a nutritional super-antioxidant cocktail made from Texas winery grapes, providing a plumped and luscious complexion. Crow's feet are encouraged to run for the hills with a peptide serum that targets deep wrinkles and surface lines. Finally, bask in Three Milk Ageless Moisturizer, a rich, creamy botanical milk with firming peptides that instantly works to spur on healthy collagen and reduce deep wrinkles. Patrons will receive a complimentary take home gift.
Available February 1-28, 2015
Love Spell Manicure and Pedicure
Dip into a classic that leaves you warm all over. Your feet are immersed in a sparkling antioxidant olive fruit and grape seed oil soak. Next, enjoy an invigorating sea salt exfoliation with silky rice bran oil, honey and spice notes. Once your skin is smoothed and buffed, a lightly scented sweet cream lotion tops off this decadent treat.
Mani – 25 minutes, USD 55
Pedi – 50 minutes, USD 90
Available February 1-28, 2015
Note: Prices and treatments are subject to change without notice.